It was the summer of 2005.
My wife and I had just returned from celebrating our engagement in Greece, and we were sharing stories over bowling with some good friends.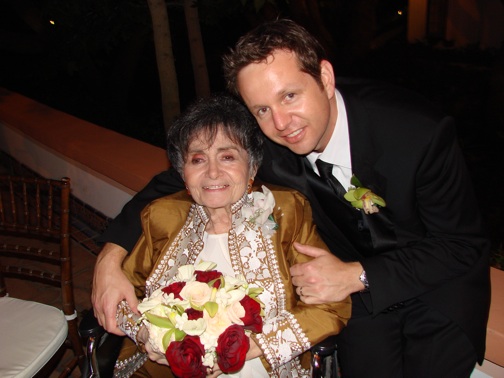 I was the product of a second marriage, and my mom and I had become quite close since my father's passing in high school. We spoke often, so I wasn't surprised when my cell phone rang and the caller ID showed it was her.
I was surprised when I answered. It was the paramedics.
Apparently, my mother called 411 asking for her son's name and phone number as she could not remember it. The operator called 911, and in a matter of minutes, they had arrived, kicked down the door and called me.
My mother had a stroke. I was 33.
The Journey Begins
That a 73-year old woman had a stroke is not unusual. Mom's case was unique because of the series of complications that nearly killed her. In the eighteen months following her stroke, she required back surgery to remove a staph infection from her spine, a perforated intestine that required stomach surgery, several MRSA infections requiring IV antibiotics and a broken hip. She spent several weeks in the surgical intensive care unit recovering from her back surgery. Many of these nights, I feared the worst, but my mom's a fighter.
The medical system these days isn't a big fan of keeping people in the hospital. They're highly trained at treating acute problems and dealing with specific injuries and conditions. In fact, we have some of the most skilled doctors in the world.
But when you're older and it comes to recovery from serious illness, your options are usually to go home or go to a skilled nursing facility where they can provide some therapy, administer IVs and other things requiring a registered nurse.
During this time, she spent nearly six months back and forth between the hospital and skilled nursing. In January of 2006, I moved Mom from San Diego, California to Orange County (right between San Diego and Los Angeles) and from skilled nursing to assisted living.
Trust, Hope and Hard Work
When Mom arrived in assisted living, she could not stand or walk and required a 24-hour caregiver. She could not eat or drink on her own and was in a deep state of depression.
While I found much advice on medical conditions and treatment, I found virtually nothing on understanding assisting living. Sure there were some websites that taught you the basics, like "make sure a nurse is on duty" or "make sure the kitchen is clean". But this is my mom and I wanted far better for her. I wasn't putting her away, I was giving her assistance.
Because of the lessons I learned – and a lot of hard work on the part of my mother, she is doing very well and we've become very close friends. She walks with a walker, her memories are clear and vibrant, she has a circle of friends and a packed calendar.
She even made it to my wedding. And she looked beautiful. I cried. I consider myself to be a good public speaker, and when I looked out to give our wedding toast, I fell apart.
Why Read This Blog?
I assume you read through my story because you, a friend or a member of your family requires some form of elder care.
My goal is to educate and inspire you to make your elder care experience a positive on for you and your family.
I hope you enjoy Inside Elder Care and that I'm able to somehow make your journey a bit easier.
You can follow the blog by either RSS or email.   Thanks for your interest.
All the best,
Ryan Malone