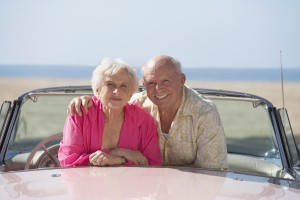 Seeing the wonders of the world and exploring little known hamlets and villages ranks high on most people's to-do lists. As a senior, you have more time than most, but you will also face a few additional challenges even as you engage in all kinds of fun activities. But there's no need for these challenges to keep you from your dreams of travel and exploration. Whether you want to travel abroad during the holidays, meet up with family in faraway places or are just stopping in for a visit, these tips can help you make the most of your travel time.
Set Up a Designated Travel Account
Identity theft and pickpocketing are both big problems for travelers, regardless of where you are. You can get special protective plans that will provide you with the coverage that you need as well as a number of helpful monitoring services. The catch to this, though, is that these services are typically on a per card basis, and they can quickly add up. According to USA Today, protection for a single card could cost anywhere $10 – $30 a month, depending on the package that you choose. However, if you use multiple cards, the costs for protecting each one can pile up and the service may become less effective. Instead, make sure that you have a Mastercard or Visa, or another card that will be accepted at most locations. Opt for extra protection on this card, and only carry it when you travel. You should also carry a small amount of cash to help you in an emergency. Just make sure that you carry it in a separate location from your credit card.
Be Prepared
A number of challenges that come from traveling as a senior revolve around increased medical and special needs. Even if you aren't planning on more than a day trip, you'll want to make sure that you have everything that you might need, particularly when it's necessary for your health. For medications, make sure that you carry a full period's dosage for however long you are going to be gone plus one more. For oxygen tanks, you can purchase a portable oxygen concentrator to allow you greater mobility.
Always Call Ahead
Traveling with a scooter or any other form of mobility assistance adds a few challenges of its own. Increased security, as well as other procedures for getting in and out of secure locations, can easily add hours onto your travel plans. Rather than risk missing the train or plane, find out in advance what security needs from you and what you can do to make it as quick as possible. Also bear in mind that, depending on where you're traveling, the facilities you are using may not actually have room for scooters, wheelchairs and the like. Since these tickets are often nonrefundable, you need to make sure that they can accommodate you before you hand over your money.
Never Leave Without Travel Insurance
Even when you're trying to cut costs in other ways, travel insurance is the one thing you don't want to go without. You will probably have an item or two that you have to take with you and that is quite valuable. Travel insurance policies protect your belongings and even you in your travels. In some cases, you can even obtain travel insurance that will cover medical and health
expenses. Remember that most health insurance policies are often limited to the United States or have significantly longer claims processes for medical emergencies overseas. Travel insurance is designed to provide you with the emergency funds you need as you need them and to get you through.
Consider a Home Rental Agreement for Your Tour
Staying in hotels can be quite expensive, and that cost can decrease the amount of time that you have to spend with your loved ones. One of the ways that you can help save yourself money is to rent a house during your time. You'll want to follow the same evaluation on these rental houses as you would on a regular one, even though you'll only be staying for a week or so at a time. The added benefit of renting a home for your vacation is the fact that you will have greater flexibility and adaptability in your living. You can even store the Christmas presents that you might be bringing for your friends and family in the extra space you'll have.
Hire a Travel Assistant
Caregivers are best known for assisting people at home, but you can also sometimes hire them to come with you on your travels. In some cases, the ideal person might be a family member or a younger friend. But you may feel more comfortable hiring someone to handle the travel arrangements, help you carry the equipment, and so on. If you have more advanced medical needs, then you will want to hire someone with sufficient medical skills to assist you. Finding such an individual is often best done by contacting your travel insurance agency, and this may even be covered in a senior-specific travel plan. Bear in mind that such coverage will significantly increase the premium, though.
Have a Doctor's Name for Every Location You Will Be Staying In
You never know when you might need a doctor, and there are few things more terrifying than being in a foreign country or a strange place, getting sick, and not knowing who to call. Before you travel, get a list of names of doctors written down on paper, including phone numbers and addresses. Coordinate these with doctors or hospitals listed on your travel insurance or health insurance if possible. This way, if something happens, you have the information you need.
Traveling is a wonderful way to spend time, whether with family or during the holidays. You'll want to make sure that you are adequately prepared for the trip. Making the proper preparations is essential for getting the most out of your trip. Just make sure that you're safe. Few things ruin a vacation or trip abroad more than sickness or injury.
About the Author
Scott Ridl has been with Oxygen Concentrator Store since 2008 and is passionate about topics relating oxygen and oxygen therapy. He enjoys sharing his knowledge about oxygen to help educate patients on the options they have.