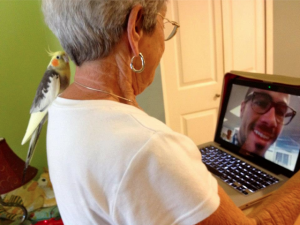 On a recent trip home to visit my octogenarian mom and stepdad, I surveyed their technology landscape. Like some of their peers, they're not eager to embrace new devices. Why? Maybe they have a fear of the unknown, skepticism about the value, lack of awareness of what's available, or a combination of all three.
But in the last year, my stepdad has—thanks to his cardiologist—a machine that monitors his heart and blood pressure and digitally transmits results, which helps with his care. Mom has a new computer with larger lettering and high speed Internet access, which keeps her connected.
This progress got me thinking: what other new technology could improve their lives and connectivity?
The good news is that the market for senior technology is booming and there's a plethora of options. To give you a taste of what's out there now, these five tools and gadgets definitely fit the "high tech helpfulness" bill.
Skype. While it's true that some older people aren't able to—or don't want to—use computers, many do. The truth is that older people, as well as their family and friends, can benefit from connecting via online services like Skype and Facetime, which allow you to see and speak to another person in real time. You may need a caregiver to help facilitate the call, but once the reluctant cross the hurdle, it's habit-forming.
And it's not just limited to desktops or laptops. "A tablet or iPad allows the older person to literally hold the device and someone's face—almost cradling—in a way that is so much more powerful and intimate than sitting in front of a computer screen," says Claude Goodman, president of CareWheels, a nonprofit developing technology services to help older people live safely and independently in their own homes.
Grabbers and Reachers. They aren't very high-tech, but one could argue that grabbers and reachers are more useful for day-to-day living. If you're concerned about your parent's safety and the potential ill effects of a fall while trying to pick something off the ground, this long, thin tool acts as a secure hand to help maintain independence in the home. It's also terrific for enabling arthritic hands to grasp objects.
Sight and Sound Gadgets. Let there be light—and amplification! Advances in technology aimed at keeping elders reading, viewing, and hearing help to lower anxiety, boost self-esteem, and generally keep them more engaged and connected at home. A variety of magnifying helpers searchable by "illuminated," "hand-held," and "computer" make reading and viewing much easier for older eyes. Telephone amplifying devices allow older loved ones to carry on conversations without constantly asking people to repeat themselves, which, in turn, leads to more natural connection with friends and family. They're also helpful for making error-free appointments with doctors.
Stairlifts. For those with heart ailments or mobility issues, installing a stairlift at home can be a godsend. There are a variety of stairlift options to consider, from adapting one for a straight or curved staircase to renting vs. buying. It's essential to consider each person's needs in a decision. This may not be for everyone, especially if the older person has trouble with motion or sitting to the side. But for those who want to get to a second floor and continue living in a beloved home, installing one makes a difference in quality of life.
High-Tech Senior-Friendly Telephone Systems with Portability. Among the many items showcased at the 2013 Consumer Electronics Show, the CareLine Home Safety Telephone System received attention for being an all-in-one communications center that solves some of the challenges of effectively aging in place.
It includes a corded base and cordless handset with large-text display, large amber-backlit buttons, and audio boost. The answering machine even has a "slow" option, so elders can play messages at a more comfortable speed. But what really takes it up a notch is the portable and rechargeable CareLine pendant. In effect, this is a light, mini-cordless phone around the older person's neck that comes with just two programmable buttons. You can set it up so that one button reaches you or a caregiver, and the other contacts 911. The older person can also voice dial up to fifty numbers set up in the system's phonebook.
With new high-tech devices for seniors being developed at a rapid rate, keep an eye out for ones best suited to your situation. To find out more, see Getting Started with DIY Universal Design and Aging in Place.
About the Author
Dave Singleton is an award-winning writer and Caring.com author. Want to know whether caregiving gadgets really work? Find out what family testers say when they put products to the test, in Caregiving Problem Solvers.