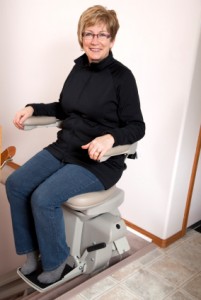 If using the stairs is becoming hazardous for you or a relative then installing a stairlift can make your life easier and safer. If you wish to age in place and are having trouble with the stairs then the first and most important thing to do is get an occupational therapist to give you an assessment. If you decide that a stairlift is a good option, then the points below will provide a helpful guide.
Is a Stairlift the best Option for You?
Stairlifts aren't the best option for everyone. If you have trouble sitting or issues with your balance, then the transition between the stairlift and landing could be dangerous. If you have these issues then it might be worth looking at either moving to a bungalow or adapting your home so that you can live on the ground floor. You can also get through floor lifts for wheelchair users, though these take up a lot of space and will take time to install.
Straight and Curved
The first task with any stairlift is determining if your stairs are straight or curved. This is fairly self-explanatory. A straight stair is a single flight going up and down. A curved stair is anything from a spiral to a staircase with fanned steps turning a corner or with one or more landings. Most companies produce different models for straight and curved stairs as the rails need to be adapted for curved stairs. Because of these adaptations, curved stairlifts tend be more expensive, which means that for stairs with landings it may be more affordable to get two straight stairlifts, one for each flight.
Space
The amount of space you have is vital to consider. For example if your stairs are less than 30 inches wide then it may be difficult to use most lifts. It's fairly rare to find that situation but it's worth looking out for. Similarly if the rail extends in front of a door then you should ensure you get a model that either retracts the end of the rail or folds it away when it's not in use.
New and Reconditioned
Stairlifts tend to be expensive, but the cost can be offset by looking at reconditioned models. A reconditioned model should not only be more affordable but just as safe. Ironically they are often more reliable as any initial mechanical problems will often have been fixed either before or during reconditioning. Any reconditioned model should have undergone a check-up and tuning by trained engineers before it is resold. In contrast second hand stairlifts often won't have the same check-ups and may not fit your stairs as every flight is different. This means you are less likely to have buyer's remorse with a reconditioned model.
Having said that, there are some disadvantages to reconditioned lifts. The first is that their lifespan is significantly less than a new lift. A good rule of thumb is that a new stairlift should last for around ten years, a reconditioned lift six years. The second concern is that the older the model is, the harder it will be to source spare parts. Because of these worries, if you do get a reconditioned lift it is vital to get at least one year's warranty from the dealer.
The Rental Option
If you are only going to need a stairlift for a short period of time, for example if you're recovering from an operation or moving to a new home then there are a range of rental stairlifts available. This is only really suitable for a few months as after about six months it will be cheaper just to buy a stairlift outright. As with bought lifts, rental lifts can be fitted onto straight and curved stairs and are available as new or reconditioned. For a curved stair you may need to go to one of the bigger brands as they have greater range of stock.
I would love to go into more detail, but beyond a certain point the specifics of your home situation become vital. If you have any further advice or have experience with chairlifts, we'd love to hear your comments below.
About the Author: Daniel Frank is a blogger and online writer who is writing on behalf of Stannah Stairlifts, who provide a number of services including renting stairlifts.