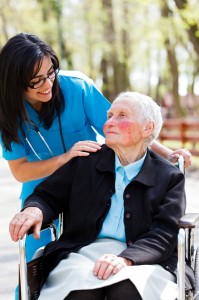 Most of us love our parents and want them to have the best possible life in their old age. But we don't live in a culture that's very friendly towards older people. They are often left to fend for themselves and not all of them have children who have the time to visit them regularly.
Nursing homes have long been an option for people in such situations. In many cases we keep our elderly family members in nursing homes thinking they will receive the best possible care and treatment there. But unfortunately, things don't always work out like that.
The truth is that abuse against the elderly in nursing homes is a surprisingly common occurrence in our society. I still remain in dark about the reasons behind this this inhuman practice, but after witnessing a number of such cases and hearing a string of heartbreaking accounts I can safely say that I can identify and recognize elder abuse when I encounter it.
Physical abuse is usually quite evident, but verbal abuse, while tricky to detect, can be as damaging and dangerous for the health of an elderly person, and needs to be detected and stopped at the earliest.
In this post I tell you how to identify signs that point towards your loved one being mentally tortured and verbally abused in the nursing home you trust to look after them.
Being Expressionless and Lost
So you visit your elderly father in the nursing home and find that instead of being happy to see you he is being inattentive and incoherent. He is talking to you but appears lost and expressionless. He does not have answers to simplest of questions and starts appearing more and more incapable of taking even the smallest of decisions. If you observe such behavior, don't ignore it thinking it is normal, especially when your father was fine in the beginning. Question yourself why has there been this change in his behavior.
Chances are our elders will not tell us they are facing verbal abuse from the staff as they might feel embarrassed or frightened of the consequences of doing so. Study their behavior instead. Feeling blank, being unusually quiet and painfully lost are all indicators of verbal abuse.
Run a check on the nurses and caregivers dealing with your parent. Talk to other patients and their relatives and ask them if they too are facing similar situations and if they suspect anything.
Not Wanting to Deal with Money
Your father used to love his freedom and financial independence. But now he wants you to not leave any cash in his possession or remove money from a certain bank account citing various and inconsistent reasons. It is likely that somebody within the nursing home is exploiting him and probably even threatening him when he refuses to comply.
Create a secure environment for your dad. Take him along with you and talk to him if he is indeed facing any such abuse. It's likely that if somebody within the staff is threatening your dad about finances, these threats are manifesting themselves in various other cruel ways as well, like not feeding him properly, delaying his medication, restricting his activities, and falsely imprisoning him.
Being Scared and Asking You Not to Leave
When somebody humiliates you constantly, pokes fun at you, calls you names and uses derogatory language while talking to you, knowing you are the weaker one, you feel all the more helpless and vulnerable. You want to run away from that person and the situation. This is what is happening to your loved one, too. That is why they are fearful and helpless, and constantly asking you to take them home with you.
Sometimes we dismiss their fears and pleadings as irrational or delusional behavior, but most of the times it is anything but.
Check with the authorities soon as you can. Ask your loved one why they want to leave and why they are scared. If they are insisting on you staying back or them leaving, they will most probably also tell you the reason behind it. Take immediate action. Your priority should be to keep your loved one safe.
When You Are Not Allowed to Visit without Supervision
In order to keep you in the dark about the abuse inflicted on your loved one, nursing homes sometimes do not allow you to visit or interact with them without supervision.
Don't assume this is some weird, twisted rule of the nursing home. Why should your meeting with your loved one be supervised? What are they keeping an eye on? And what about privacy?
Watch the body language and speech of your loved one around them. If there is some problem, the tension in the interaction between the staff and the elderly person will be evident. Pick on that tension and talk to senior authorities. In such cases, verbal abuse is usually accompanied by physical abuse as well. Watch for unsightly marks on your loved one's body and fight for time alone with him. Talk to him and find out the truth.
The Staff May Not Always be at Fault
The staff is not always responsible for the verbal abuse suffered by people in nursing homes. Aggressive and dominant inmates could also be at fault. They could be threatening, humiliating or embarrassing your loved one by saying mean and menacing things to them.
The moral of the story is that whenever you witness anything that makes you suspicious about the living conditions of your loved one in their nursing home, take immediate action to find out the truth and rescue them and others like them from the oppressive place.
More than half a million elderly Americans get abused each year in the U.S. We cannot just sit back and let this continue. Each one of us has an elderly person to take care of and all of us are going to grow old someday. We need to take action against these erring institutions to fight and prevent elder abuse.
About the Author:
Dan Brown is one of the principle partners and attorney at Brown & Brown Law Office based in St. Louis, MO. He has successfully handled many cases related to nursing home abuse and home assaults. The firm represent individuals from Missouri who are suffering from nursing home abuse and always ready to help personal injury victims.