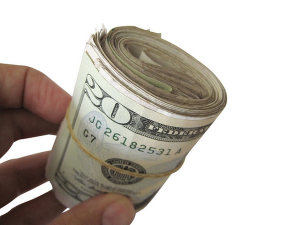 As you've seen, long-term care is expensive. Even a temporary stay in an assisted living facility can derail years of careful financial planning. Although costs may vary significantly depending upon where you live, a family's assets can be quickly depleted.
According to the U.S. Department of Health and Human Services, one year of care in a nursing home (based on the 2006 national average) will cost over $62,000 for a semi-private room. One year of care at home, assuming someone needs periodic personal care help from a home health aide (the average is about three times a week), could cost almost $16,000 a year. I've seen folks spend close to $100,000 per year on 24-hour in-home care.
When my father died in 1989, my mom invested what he left her and did well. She thought she had planned for everything, including adjusting her expenses to be comfortable for many years. The one thing she didn't plan for was an illness that required long-term care, where all expenses are paid privately. While she was fortunate that my father planned for her, the growing expenses continue to be a growing burden. Each year, the financial-related stress increases.
I've spoken to many people in similar situations. Those who don't have the financial ability to pay for their assisted living solution, through asset allocation or long-term care insurance may find themselves forced to depend on their family to pay their bills – and that can be devastating.
It is imperative that you assess where the money can be found to implement any forthcoming decision regarding a specific assisted living location and I urge you to do so early on in the process.
What are the costs of long-term care?
And costs for long-term residential care services vary greatly depending on the type and amount of care, the provider, and in which state your loved one resides.
It is a surprise to some that ordinary health insurance policies and Medicare usually do not pay for long-term care expenses. I repeat: ordinary health insurance policies and Medicare do not pay for long-term care expenses.
Medicare pays only about 2% of all nursing facility costs, and nothing at all for residential care. Medicaid, a federal/ state health insurance program, will only pay for long-term care if the person has already spent most of their savings or other assets, and Medicaid pays nothing at all for assisted living or residential care facilities.
The average stay in a long-term care facility, according to the government findings, is about three years.
Private Long-Term Care Insurance
According to the U.S. Department of Health and Human Services (2007), at least 60 percent of people over age 65 will require some long-term care services at some point in their lives. The Department estimates that about 12 million Americans over the age of 65 will need long-term care services by the year 2020. This same study found a person may need long-term care services at any age: Forty percent of people currently receiving long-term care are adults 18 to 64 years old.
At costs ranging from $60-100,000 a year, you can easily see why Long Term Care insurance is of interest to many Americans – but as you age, it can become prohibitively expensive. According to Dianne Duva, Certified Financial Planner and Senior Financial Advisor for the JWS Group, Merrill Lynch, there's a 'sweet spot' for purchasing this coverage: that optimal age where you're not so old that such coverage is prohibitively expensive, and not so young that you're paying needlessly for insurance you won't use for many years.
Policy Parameters
Benefit Amounts: Policy benefits may be paid on a daily, weekly, monthly, annual or other basis. For example, a policyholder may receive $100 per day to cover their nursing home costs or $350 per week for home health care. It is important to know the average cost for nursing home care in the area before selecting a benefit amount for your loved one's policy.
The Elimination Period: Most policies include an elimination period of 20, 30, 60, 90 or 100 days. This means that a policyholder will not receive benefits until after the elimination period has passed. Policies with longer elimination periods cost less than policies with shorter elimination periods.
The Benefit Period: This is the length of time that benefits will be received from the policy. Benefit periods can range from one year to life.
Lifetime Maximum Benefits: Most plans have a total maximum benefit paid over the length of the policy's duration.
Inflation Protection Rider: Without inflation protection, policy benefits may be much lower than what is actually needed down the road to maintain your loved one's standard of living.
Naturally, your loved one may not have had the opportunity to purchase such a policy. After all, we're talking about "at-need" situations, not "pre-need." If your loved one needs assisted living right now; paying for it has become a major issue in the present.
What's next?
It's time to look closely at your loved one's assets and income. When families get together to talk about money, emotions can run rather high; it may prove useful to bring in the family attorney, accountant, or other objective third party to assist you.
You'll quickly discover (unless your loved one has been extremely attentive to these details) that the financial and ownership records you'll need are to be found in different places: safety deposit boxes, checking or savings accounts in different banks, stock portfolios held by different brokers; pension records, mortgage documents, deeds of trust. It's time to get them all organized and accounted for.
Photo Credit: Images_of_Money