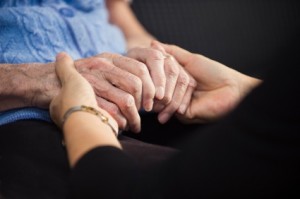 Many adult sons and daughters make every effort to visit their aging parents in nursing homes and other retirement communities in order to stay in touch and reduce the feeling of isolation their loved ones may have. There is a larger benefit to doing so and it extends beyond just one family. Nursing home abuse is not uncommon and it takes little effort for families to help elder law attorneys and senior advocates.
Many aides at nursing homes are trained very little and asked to work long hours at little pay. This is in part because facility operators do not get any more money from the Centers for Medicare and Medicaid Services if they provide exemplary care. Therefore, many operate at the bare minimum. Working with aging residents who have varied and significant needs can also be taxing. Many aides snap.
While the situation creates the conditions, those actions are unacceptable. Families on visits should watch for any signs of bruising or injuries suffered by their loved ones. It may be difficult to assess any problems in the case of mental disability such as Alzheimer's Disease, but that is not a reason to completely discount any complaints. Any repeated comments should be addressed with the facility's staff at a start, and an elder law attorney if incidents seem to continue.
It also does not hurt to check in with nearby residents, especially if you know that they rarely receive visitors. Seniors in nursing homes are a very vulnerable population and the Centers for Medicare and Medicaid Services and state agencies only make annual inspections at best. It does not take more than a minute or two to ask about a parent's roommate or the man or woman across the hall.
Finally, in addition to checking with the facility, making a complaint to the state Department of Aging or Health and Human Services should be made so that an investigation can be made (for more information on agencies related to nursing home care look here). In some cases, calling the local police department may also make sense. In any case, making examples of elder abuse public help not just your loved ones, but those of many others.
Finally, keep in mind that abuse is not always easily visible. If an older parent is acting differently, they may be depressed from a lack of independence. However, they could also not be fed properly or having their medications restricted without good cause by nursing home aides or nurses. These are more difficult to identify, but adult sons and daughters should be wary of these as well.
Ensuring that one made the right decision can be difficult, especially if there is not a clear sign of abuse. Check with a local senior advocate or even the family doctor to see what signs should be visible, or consider getting in touch with an elder law attorney. Abuse can be devastating to older residents, and family visitors can be on the front lines of making sure it stops sooner rather than later.
This was written by attorney Jonathan Rosenfeld. Jonathan is the founder of Rosenfeld Injury Lawyers in Chicago, IL and has a law practice concentrating in cases involve nursing home negligence.