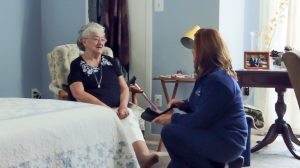 The problem of elder abuse and neglect is one that every family must be on the lookout for. Whether  your loved one is being cared for at home by another family member, by a professional caregiver or if your loved one is in an assisted living facility, neglect and/or abuse are real possibilities. Understanding the signs of elder abuse and neglect and knowing what to do to prevent or stop abuse can help to keep your loved one safe.
What is Elder Abuse?
The U.S. Administration on Aging defines elder abuse as "any knowing, intentional, or negligent act by a caregiver or any other person that causes harm or a serious risk of harm to a vulnerable adult." All 50 states have passed laws defining elder abuse and seeking to prevent cases of elder abuse in their jurisdiction. With each state defining abuse differently, it is important to know how your state defines elder abuse.
The type of abuse commonly inflicted on the elderly can be categorized into seven main areas.
Physical abuse is exactly how it sounds; inflicting physical pain or injury.
Exploitation refers to the misuse of money, property or assets.
Abandonment occurs when a caregiver stops providing care for an elderly person.
Neglect is the failure to provide a home, food, health care, or other protection for a senior.
Sexual abuse is characterized by non-consensual sexual contact.
Emotional abuse is caused by inflicting pain through verbal and nonverbal acts.
Self-neglect occurs when a senior fails to take care of their personal needs, health or safety.
Risk Factors of Elder Abuse
Elder abuse can be hard for families to accept. You have chosen a caregiver or facility you believe will provide the best care for your loved one. No one wants to think that abuse can happen or that the person they trusted to provide care has done something unthinkable. Even when you are faced with the signs, it can be tempting to write off bruises as accidents. Knowing the risk factors for elder abuse can help you to know when to raise the warning flag.
Some common risk factors for elder abuse include:
Isolation. When a senior has limited access to the outside world and little contact with friends or family it is easy for an abuse to take place.
Substance Abuse. The use of alcohol or drugs by a caregiver can make him or her more likely to become abusive to a senior.
Violence. A family with a history of violence, especially between spouses, is more likely to experience elder abuse.
Declining Physical and/or Cognitive Health. When a senior becomes ill or has trouble with Alzheimer's or dementia the risk for elder abuse goes up.
Dependence and Shared Living Arrangements. When the caregiver and senior live together and/or when the caregiver is dependent on the senior for financial support the risk increases.
Stress. Caregivers facing stress at work and/or home can often become abusive. Finding regular respite care for caregivers helps to prevent abuse.
How to Identify Elder Abuse
What are the warning signs that a loved one maybe coping with abuse? The warning signs are many and vary depending on the type of abuse suspected. If you believe your loved one is being physically abused, look for bruises on the arms or neck, unexplained injuries and/or a refusal to seek medical help for injuries. If you see marks on the wrists and/or ankles, this is a warning sign that your loved one is being restrained. If the caregiver is dismissive of your questions about injuries or bruises, this is also a warning sign of elder abuse.
When seniors are experiencing emotional abuse, it is common to find them unresponsive to questions, fearful or suspicious, unwilling to go to social outings, and to experience sudden unexplained changes in behavior. Exploitation abuse can be more difficult to identify unless you have access to your loved one's financial accounts. Large withdrawals, unusual ATM activity, sudden increases in credit card debt, or forged checks are the most common signs a senior is being exploited.
Elder neglect manifests itself in a wide range of ways. Seniors who are being neglected will often have poor hygiene and eating habits. Loss of weight, pressure sores, sunken eyes, and dirty clothes are common signs of elder neglect. If a caregiver is not providing medications, access to eyeglasses, teeth or hearing aids, these are also signs of neglect.
How to Prevent Elder Abuse
Preventing elder abuse falls to the family and friends of seniors. If you suspect abuse or are concerned that a caregiver may be nearing the end of his or her reserve of patience, it's ok to step in. Ask the senior if he or she is ok or is fearful. Pull the caregiver aside and offer assistance. Find respite care services for the caregiver so he or she can get away for a few hours each week to rest and recharge.
Helping your loved one to get to favorite activities, out to lunch, to the library, or other locations is an easy way to prevent abuse. Social outings can help seniors to feel loved and valuable. Your loved one is more likely to confide in you if they believe you will be there to help them. Taking your loved one on outings also provides relief for the caregiver so he or she can have some alone time. The more people your loved one interacts with the more people there are to notice changes in your loved one's demeanor, physical appearance and emotional state.
If you fear a loved one, friend or neighbor is being abused or neglected, please don't hesitate to notify the proper authorities. Every state has an agency whose main responsibility is responding to the needs of the elderly. You can find more information regarding your state's agency here.
If you suspect someone is in immediate danger, please call 9 1 1.
About The Author
Visiting Angels was established in 1991 in Baltimore as an independent agency caring for seniors in their homes.  Today, Visiting Angels agencies employ only experienced caregivers and conduct the most comprehensive background screenings to ensure that their caregivers meet or exceed the company's high standards.  For companion care, Alzheimer's care, Dementia care and the country's best palliative care program make Visiting Angels your choice in home care services.  For more information about our elder care services or to find a location near you, please visit www.VisitingAngels.com.