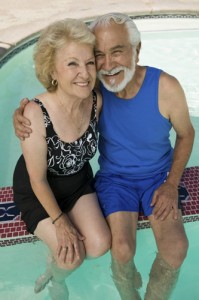 If you're thinking of buying a new dishwasher, where do you turn? If you're like many people, you probably turn to the Internet at some point during your search to read reviews from other consumers who have direct experience with the brands you are evaluating. And you'll find an abundance of such reviews across dozens of websites. The decision to place a loved one in a senior living community — and deciding which senior community is right for your loved one —  is a far more important choice. Yet, you won't find the same abundance of reviews online from real consumers.
But that's starting to change. The population is aging rapidly, and the need for different types of senior housing options is growing. Today's consumers are savvier and more educated, and fully aware that the decision is far more complex than simply choosing a community based on its location and the amenities listed in a brochure. Word-of-mouth marketing and personal recommendations aren't new, but the availability of this information from dozens to hundreds of consumers at your fingertips is a growing concept in the senior living industry.
What Makes a Good Senior Community Review?
When you consider online reviews as a whole, there's a clear differentiation between those that are genuine and valuable and those that are untrustworthy. It's not uncommon for a brand to pay consumers or offer an incentive in exchange for a positive review. In the senior living space, you need real reviews, from real consumers who have had direct experiences with the communities they're reviewing.
There's also an important role for expert opinions. Geriatric care managers, home care workers and other industry professionals have a different perspective on the communities they interact with on a regular basis—a perspective that's important for consumers to learn before making a decision as big as selecting a senior living community.
Senior community reviews should address the most important considerations families face when choosing a senior community for a loved one, including:
Staff friendliness, as well as issues with turnover and staffing ratios.
The facility itself, such as cleanliness and updated furnishings, as well as the available amenities on the property.
Quality of care, such as prompt attention to concerns, adequate care for resident needs and whether the care provided inspires confidence and trust.
Dining services, including the ability for residents to choose dining times, accommodation of special dietary needs and the quality of the food provided.
Inspection Data Becomes Increasingly Important
Finally, data from state inspections has become increasingly important to consumers. Nursing homes and other providers are required to make the results of these inspections available to any resident, family member or visitor in most states—and much of this data has been made available online in recent years.
Even the government has taken notice of the demand for critical decision-making data, launching a number of initiatives that provide information to consumers on the Internet, including the Five-Star Nursing Home Quality Rating System and Nursing Home Compare. In fact, the Centers for Medicare and Medicaid Services plans to make even more nursing home deficiency information available online in the near future, thanks to the steady consumer demand for easily accessible data at their fingertips.
Un-Biased Reviews a Critical Aid for Complex Decision-Making
Choosing a senior community for a loved-one is a complex and often nerve-wracking process for families. Locating senior communities on the web, reviewing the available information on services and amenities, touring facilities and meeting with staff and administrators can be a daunting process. Despite all this, many families still enter a senior community experience not knowing what to expect.
Legitimate, unbiased online reviews of senior communities can alleviate some of the unknown associated with such a new experience, easing the minds of both seniors and their loved ones who are each undergoing their own journey through this process. Online reviews can provide consumers with dozens or hundreds of detailed opinions, describing the atmosphere at a community, the quality of care, staffing, amenities, services provided and even personal experiences.
There's no real way to make the decision of choosing a senior community an easy one. But online reviews will allow seniors and their loved ones to be more confident in their choices, reducing the stress for everyone involved in this life-changing process. The availability of online senior community reviews is one way that technology is reducing some of the challenges associated with aging.
About the Author
Chris Rodde is the CEO and co-founder of SeniorHomes.com, a free resource for people looking for senior housing or senior care for a loved one or themselves. SeniorHomes recently launched a national ratings system to help seniors and their families make more informed decisions. To learn more about the ratings program and the Best of Senior Living Awards visit: http://www.seniorhomes.com/p/2013-best-senior-living-awards/
Photo credit: moodboardphotography