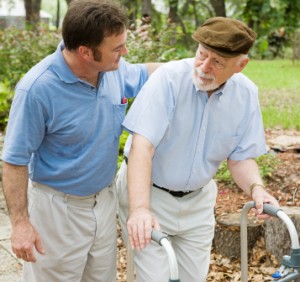 Caregiving is, by its very nature, the giving of yourself for someone else. Caregivers need to respond to the every need of the person they care for, and they often find themselves essentially giving up their own life for the life of someone else – all while dealing with the natural stresses and anxieties of caring for someone with special needs.
That kind of sacrifice comes with a price. Caregivers are often prone to serious stress and anxiety that can be debilitating, and may take away from your ability to deal with the needs of the person under your care. For those that are suffering from caregiver anxiety, consider these tools and tips for improving your own mental health.
Caregiver Anxiety Tips
Be "Selfish" – Perhaps the most important thing to remember is that your mental health affects your ability to be a good caregiver. Caregivers with anxiety and stress won't be 100% at all times. So if the stress is starting to get to you, it is in your best interests – and the best interests of the person you care for – to take a moment and find a way to relax. It's not selfish to want yourself to be at your best, even if it takes away from your caregiving duties for a short time.
Join Support Groups – So much of caregiving involves taking care of those with dementia, or fading health, or Alzheimer's, or some other disorder. Witnessing that breakdown can be emotionally difficult. Support groups give you an opportunity to surround yourself with others experiencing the same thing. It makes you feel like you're not alone and supported. Developing that type of community can be powerful.
Exercise – One of the first things that caregivers neglect when they start caring for others is attention to their own physical health. Yet the mind and body are powerfully connected. If you're consistently inactive you'll end up with excess energy that will only fuel your anxiety further. If, on the other hand, you exercise regularly, you'll burn away not only excess energy, but also cortisol (a hormone released when you're stressed).
Go Out With Friends – As hard as caregiving is, chances are you have some free time (as little as it may be). It's important you do not let yourself fall into the trap of using that time to simply mope about your stress. Force yourself to stay active. Go out and spend time with your friends, and allow yourself the opportunity to create social support for yourself, laugh, and create memories outside of your caregiving.
Therapy – Many people look at therapy the same way they do pharmaceutical medicines, and this is simply unfair. Therapy can be extremely effective at helping you cope with your stress and anxiety. Cognitive-behavioral therapy has received ample research into anxiety reduction tips and strategies, and seeing a therapist is 100% side effect free. If you can afford it, therapy can be an extremely helpful option to consider.
Developing Strategies to Cope With Anxiety
You can also find your own coping strategies as well, provided they are emotionally healthy. Skipping stones at a park or walking your dog may be a worthwhile way of coping, and if it helps you improve your mental health you should always find time to do it, even if it takes away from your caregiving duties for a short time.
The above methods of decreasing stress and anxiety are valuable, but they're just suggestions. The most important thing you can do for your caregiver anxiety, however, is recognize that you own your mental health matters. No matter how much you need to care for someone else or how important that other person is, they – and you – need to always make sure that you're taking at least a bit of time to ensure you are able to relax, otherwise neither of you will get the attention that you deserve from the caregiving relationship.
About the Author: Ryan Rivera is an anxiety specialist that has written countless tips for managing stress and anxiety. He has a website dedicated to anxiety disorders and treatments at www.calmclinic.com.