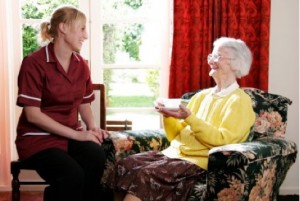 For aging adults and their families, a lengthy hospital stay can be a frightening and confusing time. At the end of this particular long road lies another; the transition from extended hospital care to home health care. Making this transition can be a challenging experience, but it's also one which can be handled deftly with the proper preparation and reasonable expectations.
When home health care is the preferred solution for an aging patient, having a transitional plan in place before hospital discharge is essential. Medicare data indicates up to one in five patients will be readmitted to a hospital within thirty days of discharge, and almost half of those cases can be directly attributed to lack of access to community services or social interaction. Keeping your loved one healthy and comfortable at home will require that they're able to remember and attend all follow-up appointments with a primary care physician, maintain the appropriate medication schedule and have access to a reasonable level of in-home assistance.
Planning Ahead
For the greatest chances of a successful transition to home health care after a hospital stay, it's wise to begin making plans for this transition as soon as possible. Depending upon existing medical conditions and the advice of an attending physician, you may need to make arrangements for the procurement of specific equipment and supplies. Hospital beds, oxygen supplies, assistive showering and toileting devices and even disposable items like adult diapers and gloves are commonly suggested. Adjustments to make room for these tools should be handled as early as possible, to ensure a smooth transition from hospital care to home. Having all the necessary supplies in place on the day of discharge can alleviate much of the stress of the transition, making it more manageable for everyone involved.
More often than not, an aging patient will be prescribed new medication in order to more readily address the condition being treated during a hospital stay. Medication management becomes another important aspect of the transition to home health care from hospital care. It can be confusing for a senior recovering from an illness or procedure to integrate new treatment into their medication schedule. It's crucial for a home health care professional or knowledgeable family caregiver to understand the intricacies of medication management, especially if new medications are contraindicated with older ones or there are overlapping prescriptions.
Understanding Care Requirements
After being discharged from a hospital stay, regardless of the length, most seniors will require at least some assistance at home. Working with attending physicians and primary care physicians to determine the required level of home assistance is advised. Some patients may require as little as a few hours of maintenance and medication  management each day, while others require 24-hour assistance with necessary activities like toileting and routine hygiene. Recent studies suggest more than half of patients over the age of eight-five will require some level of assistance with basic daily activities after leaving the hospital, though the duration of this assistance will vary from one individual to another.
In order to create an environment which will facilitate successful transition, it is crucial for family members to have a realistic understanding of home health care requirements. Because there may also be as much as a full day's gap between discharge from the hospital and the beginning of covered home health services, it's also important to have a plan in place for the day of release.
With the right level of preparation and a clear line of communication between patients, family members and medical care providers, it's entirely possible to facilitate a smooth and successful transition from a hospital stay to home health care. Properly executed home health plans can also reduce the likelihood of repeat hospitalizations, improve quality of life and help your loved one enjoy their golden years to the fullest.
About the Author
Selwyn St. Louis is the Director and CEO of Better Living Senior Services, located in Tampa Bay, Florida. Since 2009, Selwyn has been on a mission to help those in need with home health care options for the elderly.