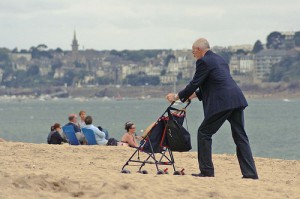 Recent studies suggest that an excess of sleep can be harmful, leading to thyroid disease, kidney and liver disease, depression and even dementia. People who sleep too much or too little are more likely to die at an earlier age, also. Somewhat disappointing news for those of us who enjoy a few extra zzzs on our days off, but news that should, in so many ways, wake us up. For patients in all stages of dementia, these hours can be difficult to fill, especially for the new caregiver, who may be overwhelmed by their new responsibilities.
It's long been known that engagement of the mind and body are crucial to memory care, but finding ways to keep seniors active (especially in winter) can be difficult—for ideas, go here. Finding activities that a caregiver, senior, and grandchild can enjoy together present an even greater challenge. Sometimes though, it isn't as difficult as you might think. Things that you find enjoyable may also be enjoyable to the senior in your life.
Volunteer
The experience of helping others is rewarding for people of all ages. Fortunately, volunteering (especially around the holidays) happens across a variety of platforms, which means that children and seniors with physical handicaps, memory loss, etc. will still be able to participate. Volunteer work might consist of filing paperwork for a local food bank, petting cats at an animal shelter, or helping serve children lunch at a nearby elementary school.
For seniors that have been active, the transition to an assisted living facility can be difficult, since many do not facilitate activities. Outside volunteer work helps the senior, the family, and the community.
Play Chess
The game of chess can be enjoyed by many and requires little mobility—perfect for older folks and children who tire easily. If you or your loved one doesn't know how to play the game, make a day of learning it. It can take as much or as little time as you have, and actively engages the brain.
Bonus points if you can find boards in a park (like this) or bring your own. Playing in a park gives everyone some great access to fresh air and allows for a bit of exercise before, after, or between games!
Wii Fit
We're so fortunate to have access to various kinds of technology these days—why not take advantage of it! The Nintendo Wii Fit offers a variety of simple (and more complex) exercises for you, your children, and your senior. There are yoga and step aerobics programs, bowling, and a variety of other games. Video games have proven their effectiveness as a form of memory care, and the Wii Fit adds the benefit of exercise.
Seniors are becoming increasingly involved in technological pursuits, so why not utilize equipment you have to create a fun and accessible workout plan for the whole family?
Sunday Drive
This Sunday, do more than just curse those slow Sunday drivers—become one! Drives are great because they're easy for everyone, simple to prepare for, and fun for the whole family. When you're driving, consider listening to a special mix tape that can bring back feelings of nostalgia. Try an audio book or podcast. Turn the radio off all together and enjoy the company of your family in a quiet space.
You may also find that you discover new activities together as you are driving around. Stop and try new things—grab some ice cream at that new shop, rent a paddle boat, or explore the nearby mountains. Either way, a Sunday drive can provide a great setting in which to discuss your lives—a true bonding experience.
Remember, being a caregiver can mean a lot of different things, and it can also be stressful. With some work, you can make the experience (whether your senior is living at home, in an assisted living facility, or senior living community) rewarding for everyone. This is your chance to bring your family closer together with some quality time spent doing some things you'll all love!
About the Author
Madison Hill could bake her way out of a paper bag, but she hopes she never has to. She lives in Seattle where she cares for her mother and drinks ungodly amounts of coffee every morning, noon, and night. In her spare time, she writes about trends in senior care for Care Compare.