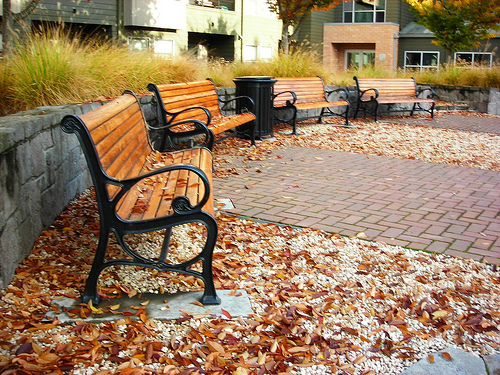 Before you can even begin the process of evaluating assisted living, it's im- portant to familiarize yourself with all the terms. There are many types of care ranging from skilled nursing to senior living. They all vary based on the level of assistance required by the resident. What is the difference? Let's find out.
Senior Communities
Senior housing is designed for high-functioning elders, defined as those not requiring assistance with ADLs. Senior communities are usually neighborhoods or towns (consider Sun City, the nation's "first and finest" senior community) that are limited to people of a minimum age. They are designed for active seniors and have a variety of social clubs such as golf, arts and crafts and cards.
While some senior communities offer additional levels of care, many are not equipped for individuals who require assistance with ADLs. Some senior communities require the resident move on, should they require this level of care.
Continuing Care
Continuing care communities are sometimes called "step care" or "progressive" care facilities. They offer a wide range of options, all the way from independent living to special care. Residents are usually admitted when they live independently. As their needs increase, they are guaranteed vacancies in the lower level of care. An entry fee is often required, making this option quite expensive.
Assisted Living
Assisted living offers the elderly a place to live outside of their own home, where they can receive basic assistance in one or more of the following areas: housekeeping, meal preparation, 24-7 monitoring, shower assistance, toileting, medication assistance or reminders, transportation, eating, dressing, activities or socialization.
In assisted living, your loved one will likely have their own apartment, unless you or your loved one consents to sharing a room with someone. A private bathroom is most often in the apartment to allow for privacy and dignity. Most facilities will have a kitchenette in the apartment with a sink, microwave, refrigerator, and cupboard space. Each apartment will likely be climate controlled individually. There will be access to common areas such as a TV room, an activity room, dining room, library, and communal sitting areas.
Assisted living facilities are designed for people who need help with complex ADLs on a daily basis. If you remember from the previous chapters, basic ADLs include eating, bathing, dressing and hygiene. More complex ADLs include cooking, shopping and money management. Assisted living aims to be the mid- point between independent living and long-term care.
Most assisted living facilities have a dining room decorated like a restaurant as well as a variety of activities. Most assisted living facilities are not licensed to administer IVs, requiring patients who need IVs to temporarily relocate to a skilled nursing facility.
Board and Care
Board and care is similar to assisted living in terms of care, although some group homes work with lower functionality seniors than those found in assisted living. A woman I spoke with recently had placed her mother, suffering from Alzheimer's disease, in a board and care facility, sometimes known as a 'group home.' This is usually a single-family dwelling which has been converted into a residence for elderly and disabled residents. The monthly rent paid commonly includes room, three meals a day, laundry services, and some transportation – in addition to a 24-hour staff person. While basic medical care can be attended to, residents who have serious medical conditions will be expected to move into a more suitable facility.
Skilled Nursing
Skilled nursing (also called SNF or "sniff") is the first level of care that is licensed to administer medical treatment with nurses. In fact, there are strict regulations that require nurses to be on duty and to regulation the nurse-patient ration.
As the name denotes, such a facility offers extensive nursing services for the residents. Admission must be initiated by a person's physician, who recommends that a patient enter either 'rehab care' or a 'special care' facility.
Rehab care. Located in hospitals or nursing homes, rehab care programs are sometimes called "Level 1" or transitional care. They provide intensive medical care for patients who are expected to regain functional capacity and return home in a relatively short time.
Special care. There are two types of special care facilities: those involved with unique medical issues (sometimes called "Level 2" care), and those which manage behavioral problems that may arise from dementia.
Many patients are admitted to skilled nursing to address an acute condition such as rehabilitating a broken hip, or treating an infection with IV antibiotics.
Many skilled nursing facilities have a portion of their residents who are long- term care patients. These are patients who require the treatment capabilities of a SNF, yet their condition requires that level of care permanently. Long-term care includes nursing supervision, but it is custodial in nature – focused on maintenance as opposed to curative care. Here the condition is not expected to improve, and the nursing activities are focused on keeping the person healthy and safe. The table below summarizes the differences between the levels of care and residential options.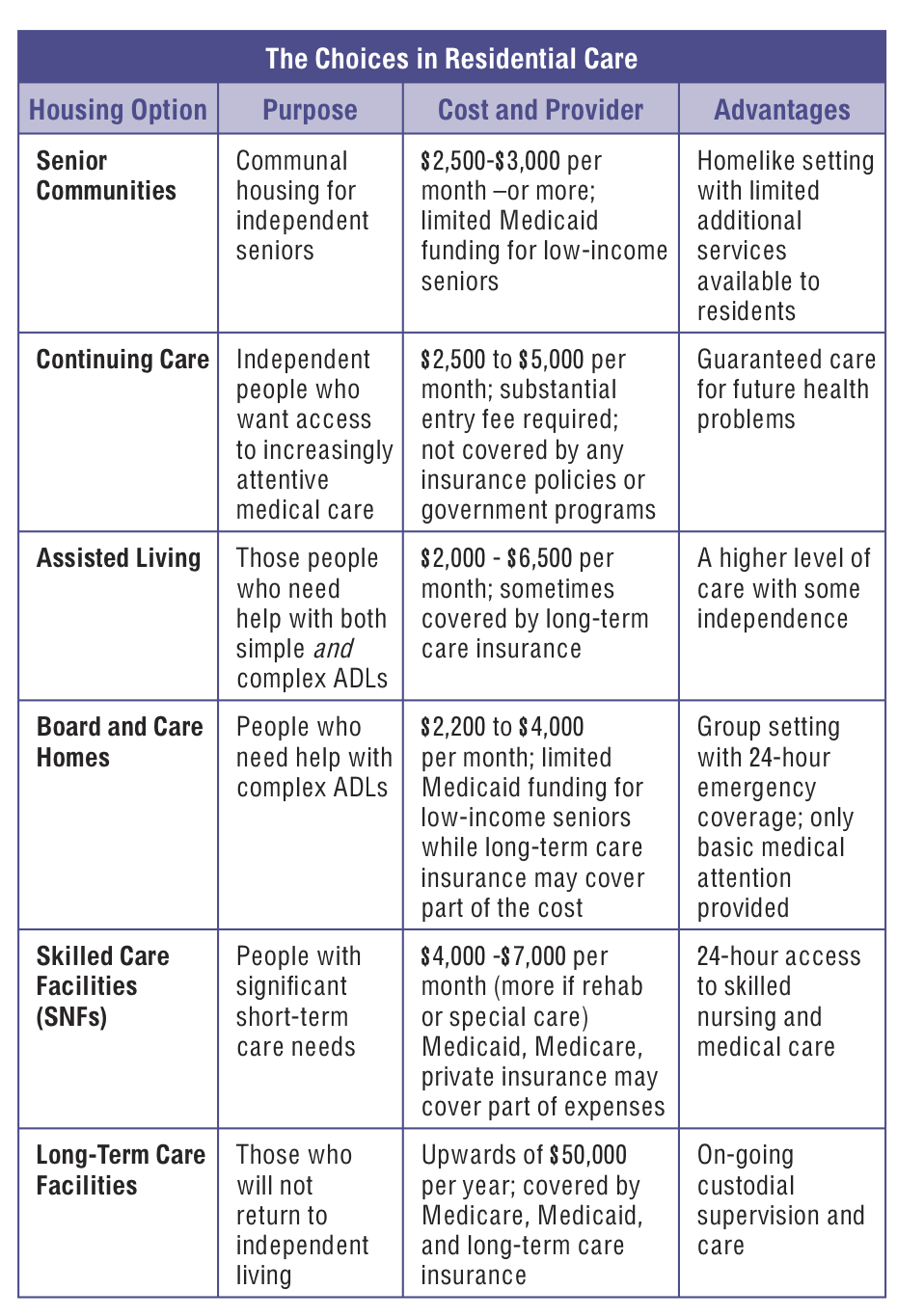 This table is an updated, compiled version of those found in both offline and online sources, many of them listed in the resources section, the Book Club listings or 2008 Long-Term Care Cost Study, The Prudential Insurance Company of America, 751 Broad Street, Newark, NJ 07102-3777.
Photo Credit: gilbert928.