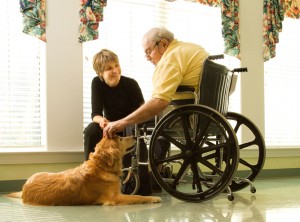 The time after a patient is discharged from a hospitalization or rehabilitation stay is a fragile time – especially for older patients. Every recovery is different, but for many, the management of daily responsibilities can present an overwhelming challenge – and in some cases may not be feasible at all. Even procedures that might seem straightforward can result in lengthy, cumbersome recuperation.
This is also a crucial time; how well patients are taken care of after hospitalization has a huge impact on how successful their recovery is in the long term. As such, it's important to understand your options during this time, do the due diligence, and plan in advance for care after the hospital stay.
The Limitations of Insurance-Covered Home Health Care
When patients are discharged from the hospital or from rehab, they are provided with in-home health care – which is usually covered by Medicare or private insurance. Home health includes select services of nurses, occupational therapists, or physical therapists for a given period of time (usually the first part of the healing period). While this help is crucial for recovery, the services are limited, and there's a common misconception about how much help is offered, the quality of care, and for how long care is provided.
For example, the provided home health aides will not typically take care of things like grocery shopping, meal preparation, escorts to and from medical appointments, grooming, dressing, and so on. This can come as an unpleasant surprise to patients and their families who may have been depending on these services to be managed.
Planning for Supplemental Home Care
When deciding what kind of help will be needed for the period of post hospital recovery, talk with the doctor to get a sense of what the recovery process will be like. Determine from the insurer what home care benefits will be included. Getting this information will help you decide the best care plan for you or your loved one.
One option that many patients and their families will elect to do is to supplement the home health with a specialized senior home care provider. Using this type of supplemental home care ensures a smooth transition from hospital to home, and it gives the peace of mind that there will not be any surprising gaps in provided care. A good home care provider can create a personalized care plan for whatever length of time is requested and can deliver a number of services that may not be covered by insurance, including:
Meal preparation
Medication reminders
Transportation to medical appointments
Housekeeping and laundry
Personal care and hygiene
Companionship
Because the time after the hospital or rehabilitation is such a vulnerable time for seniors, families often find that temporary home care is an excellent way to alleviate stress, provide some much needed assistance, and ensure the speediest recuperation possible. As individuals on the road to recovery know, a little extra help can go a long way.
About the Author
Charlie Nadler is a community education writer for Chicagoland Methodist Senior Services. CMSS is the most extensive senior services network on Chicago's north side, providing services such as senior home care, a senior living community, and more.