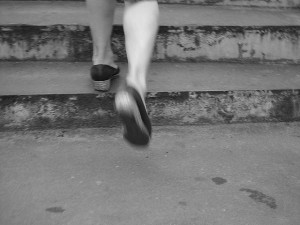 I want to share a story that serves as an important lesson that many of us already know, but we'd likely forget under the stress of caring for a loved one. The story starts with a single sentence that forever changed my mom's life: "People rise to the challenge."
This isn't my quote. To be fair, I heard these words for the first time after visiting many, many skilled nursing facilities. The source of the quote was a woman by the name of Andrea Arambula, and she was the admissions director at Belmont Village (formerly Crown Cove). It is to Andrea that I owe an enormous debt of gratitude. Andrea, if you are reading this, thank you!!!
Rewind back to December 2005. My mom had been in skilled nursing for more than five months. As dicussed in the previous blog post, skilled nursing is a mix between a hospital and an apartment. Patients usually share a room, and nearly all require treatments from a registered nurse. While my mom was there, one of her roommates passed away and several others were taken to the hospital. They did not return. While some are in skilled nursing for a short stay, many have declined to the point where it is required.
After driving 120 miles round trip, 4-5 times a week, usually after a full day at work, I decided to move my mom closer to me. I asked the head nurse for a care recommendation. She recommended skilled nursing.
She went so far as to tell me that my mom would likely be permanently bedridden, and that I should explore hospice. At the time, I was 34 years old and knew no better than to take her advice at face value. I started looking for skilled nursing facilities closer to my home in Orange County.
By chance, I called one assisted living facility and a woman answered the phone. It was Andrea.
She convinced me that my mom had no medical necessity for skilled nursing. Sure, she had problems walking, but that was a physical therapy issue. She told me something repeatedly, and I'll always remember the words. People rise to the challenge. You just have to let them.
So I reviewed my mom's medical records with her doctor, the assisted living community, the physical therapist and Andrea. It was a go! My mom was going to need a lot of help, but I was convinced that she would rise to the challenge.
I'll always remember the ride there. Since my mom needed to be lifted (yes, lifted) into a wheelchair, driving my car was not an option. So I rented a shuttle, and my mom and I rode a little over an hour in the back of a wheelchair- accessible Super Shuttle (yes, the ones you take to the airport).
She was scared. I was scared. But in my heart I knew she could do it. When she first entered assisted living, she couldn't walk. In fact, she couldn't roll herself out of bed. She needed two people to literally pick her up and put her in a chair.
Within a year, she could walk the hallways with a walker, walk to dinner, come over to my house for BBQs, get in and out of a car, and resume some normalcy in her life. In fact, she even got featured in her physical therapist's brochure. I guess she's a testimonial for hard work and good physical therapy.
Each time my mother passed a new milestone, I thought of the skilled nursing recommendation and urging to explore hospice. And each time I smiled about the progress my mom made.
Why the long story? The details of the story are important. It's human nature to fight, struggle and be determined. And regardless of your age, most people respond to the challenges they face. In the case of my mom, it was walking. In the case of your loved one, it may be something else.
So while I learned from Andrea that people rise to the occasion. I learned from mom that you have to let them.
So trust in your loved one. Trust in yourself. And I know you'll find that you can both rise to the occasion. Perhaps – and most likely — there will be tears along the way, but there will be many wonderful moments of warmth and laughter, too.
Photo Credit: Vick the Viking