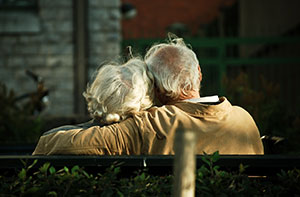 In our more honest moments, we can admit: it is incredibly difficult—both financially and emotionally—to provide long-term care for an elderly family member.
Even those who have saved for the challenges of a family member's old age find themselves facing rising medical costs, hidden fees, and dwindling savings.
And, worst of all, many people who find themselves responsible for an older family member experience "caregiver burnout," and their motivation and patience wane as time goes on. And while such feelings are totally normal—expected, even—that feeling of burnout can lead to resentment and guilt.
Those who care for family members often believe that they are utilizing every opportunity to provide consistent and thoughtful care. Luckily, there are often extensive—and free!—untapped resources available.
Let's take a look at some of the social services available in your area, and how to access them.
Step One: Log On and Find Your State's Homepage
Here's the good news: there a numerous social programs available to seniors, and to the people who provide care for seniors. Here's the bad news: most of these programs are hidden in the dark corners of your state's very old, very difficult to navigate homepage!
Texas is a perfect example. The state provides a wide range of programs for senior citizens and caregivers, but the Texas state homepage is… mystifying, to say the least.
But the search can be worth it. Texas's Department of Aging and Disability Services has a list of services by county, and offers free or low-cost programs related to respite care, support groups, education on navigating the health care system, counseling for individual family members, and disability benefits. There may be waiting lists to utilize such programs, but many services are in fact under-utilized, and you may face no wait time whatsoever.
The assistance provided by each state is different, and some states provide more care than others. But the quest can be fruitful, as citizens of New York can attest.
To find your state's website, go to a search engine such as Google, Yahoo, or Bing, and enter your state's name followed by the word "homepage" (don't include the quotes). The site you're looking for should be in the first two or three results. Click on it and remember—the frustration of the search may be worth it!
Step Two: Find a Support Group—But Not Only for Emotional Help
Numerous studies have shown that caregivers who look to their communities for support are less likely to get sick themselves, and are more likely to experience "emotional resilience." There is no question that the emotional backing that a support group offers can alleviate some of the more difficult aspects of caregiving.
So if you haven't found a support group, you should. Weekly or bi-weekly attendance helps members explore (and hopefully dissolve) some of the more difficult emotions related to caregiving.
But while that alone is reason to attend meetings, it paints an incomplete picture of the value of support groups. We often forget that support groups are full of people who have an incredible amount of knowledge—and who have already navigated the difficulties of determining care for loved ones.
Wherever you live, the people who populate your local caregiver support group will have an understanding of the health care system, local services programs, and which local agencies can provide assistance.
So—get out there and make some new friends! Share your knowledge, and find out what others in the same situation are doing.
Step Three: Explore Services That Might Not Perfectly Fit Your Situation
It may sound odd, but services that are only somewhat related to your needs may furnish exactly the help you're looking for.
Here's an example: in many states, there are community mental health clinics that offer free therapy sessions to families who have a family member with a mental health disorder. For the most part, these counseling sessions are used to discuss schizophrenia, depression and anxiety, or bipolar disorder. However, in some cases, the counseling sessions can be used by families who have a family member suffering from Alzheimer's disease or dementia. Even though the service is listed as a mental health resource, it can be utilized by families who are struggling with various aspects of elder care.
So how you do find such programs? Visit your county's website and look for a tab that says "Programs and Services" (or something like it). Counties often offer services that are not available at the state level, and you need to investigate each.
A quick tip: a "spoonful of sugar" goes a long with the therapists who work at mental health clinics. Because the counselors and clinicians at these agencies are used to dealing with unhappy or difficult clients, an earnest and polite request from someone who is motivated to seek help can put you at the top of the list for services. For the most part, counselors want to work with motivated clients, and if you can show that you are a good candidate for help, they will be happy to work with you.
Another quick tip: Explore services in the counties surrounding the one you live in. While most counties are strict about division of services, the programs in some counties may be under-utilized, and they may accept out-of-county applicants. We know of one person who was seeking legal advice with an elderly father's finances, and was able to attain the help of an out-of-county program.
Step Four: Hang in There!
Persistence in key. It can be difficult to arrange free services—but it can difficult to arrange paid services, as well! In every state and every county, there are programs that can help you help your loved ones. Keep at it, and see what you can find!
About the Author
Matthew Morris is a hospital social worker in Brooklyn, NY, and has helped many clients attain social services on a state and local level. He also runs The CNA Career Agency to help individuals start a nursing career in the healthcare industry.