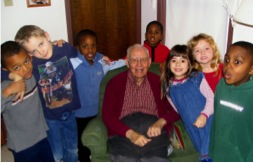 It was something so surreal that we could never imagine it when we were younger, but our parents, grandparents, and loved ones grow old. None of us remain strong forever and the day will come that you need help making it from point A to point B, but we'll leave that alone for another day. When giving seniors care it is a touchy issue when it comes to aiding them. Like everyone, seniors want to remain thriving members of society but it is physically impossible for them to do so. Here are some ways that you can ease the transition from ability to disability with seniors.
Encouraging Independence
One of the essentials of elderly care is to remember each member of society wants to be healthy and functioning. When an elder realizes he or she is unable to continue caring for oneself like they were able to in the past it is devastating to their self-image. Upholding as many independent activities an elder can accomplish is crucial. Feeling helpless and unable to complete basic life activities without help is something no person wants to experience.  Encourage an elder's independence. Challenge them to complete tasks which require independence. Go for a 3 15-minute walks per week (gentleman with a walker shown above), come down the stairs at least once per day, play a game of chess (online or offline), or any of these other activities.
Never Call Attention to Deficiencies
Humiliating a senior for a mistake or miscue should never happen. When a senior forgets where something was placed, bumps into a table, knocks something over, or has a restroom accident, do not call it to attention. Assure them that the problem will be taken care of. Then you can help to clean up the mess, reorganize, and assist in restoring the situation. Drawing attention to the senior for making a mistake only worsens the situation.
Home Care or a New Home?
When it comes to the point in which a decision must be made in regards to a senior living at home and receiving care or moving into a retirement center, the most favorable choice for the senior will be to stay in their own home. You'll find that many major changes to a senior's lifestyle are met with resistance and this shouldn't be a surprise. When there are no feasible options besides moving into a senior care center or retirement community, you're essentially telling the senior they need to evacuate their home and completely turn their life upside down. The "right" answer will depend on the needs of the aging senior and the level of care necessary for the senior to function in a healthy manner. Be sure to remind the senior that there are plenty of great things when it comes to retirement communities, including a community full of other great people and fun activities via life enrichment. If the senior makes the decision to move into a retirement community, be sure you do the research and help them decide which assisted living facility is the best.
The process of losing independence and the ability to care for oneself is never easy so do not expect it to be a seamless transition. It will be difficult, there will be miscommunication at times, and mistakes will be made. Just remember to encourage seniors when mistakes are made, don't call them out, and challenge them to do things on their own. Put yourself in their shoes and treat them as if you'd like to be treated when you come to their age.
About the Author
Cheryl Swanson worked as the life enrichment coordinator of a retirement community for 17 years. Now she finds herself taking care of her mother, Lena, making sure she gets the most out of life in old age. A writer by heart Cheryl writes for www.justwalkers.com, providing walkers for movement assistance.