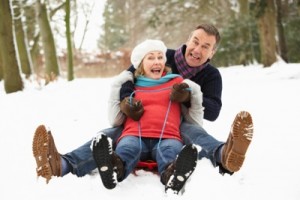 The winter months bring all sorts of exciting prospects for family fun. Whether it's baking cookies, decorating the house or just relaxing by the fire, colder days can bring us closer together and remind us of what's most important.
On the flip side, winter also carries a new set of hazards that can pose problems for families if they're not ready. Things like snow-ins and power failures can be a household burden if you haven't taken some steps to deal with them ahead of time.
That means now, more than ever, it's up to you to give your elderly relatives some added attention. As a caregiver, you're responsible for more than just your own safety.
To help you get started, here's a list of guidelines and ideas for making a smooth seasonal transition.
Get Prepared
If you haven't put together a cold-weather emergency kit, now's a good time to gather some supplies. To accommodate for seniors, pack in some extra blankets, some softer non-perishable foods and any medications they may need. On the off-chance your family is stranded for a few days, you'll need to take special care of your seniors' health and happiness.
Move Quickly
Winter storms can happen in a flash, so you can't afford to respond slowly. Ask your elderly family members if they're interested in a motorized scooter or chair. Just like giving up the car keys, it can be a touchy subject for seniors; try not to push. Help them recognize that our bodies all start to slow down at some point, and there's no shame in getting some help.
See a Doctor
The immune system weakens as we age. And after years of fighting off infection and disease, it's only fair that seniors get some extra assistance. Once flu season ramps up and the colder weather blows in, it's that much more important to take your senior family members to the doctor's office. A layman's diagnosis might not be enough in certain cases.
Stay Limber
Once we get on in years, we should all adopt a newfound responsibility for our bodies. As the joints start to stiffen and the pulse begins to slow, stretching and exercise become key pieces of a senior's day-to-day. See if you can get your hands on some weighted dumbbells or elastic bands, and encourage your senior family members to work out at least a few times a week.
Shop Right
Once the temperature drops, we want to stay inside as much as possible. So when you make the rarer trek to the mall or grocery store, make smart purchases for the seniors in your family. Stock up on warm clothing, blankets and high-fiber groceries that won't go bad. Look for cereals and nuts you can keep in your cabinet for months at a time.
Practice fire safety
Every home needs a fire safety plan, regardless of how young or old the occupants may be. Being prepared to evacuate your home as quickly and safely as possible takes on added importance when you consider that seniors may be less mobile than other members of the household. Draw up an appropriate emergency evacuation plan, practice it regularly and be sure everyone follows basic fire safety guidelines.
Be Realistic
It's a sad thought, but there comes a time when you may have to look at assisted living communities for your loved ones. Are you fully equipped to care for a senior this winter? If you can't commit the time or resources, start looking around the area for well-regarded elder care facilities. It's tough to let go, but it's often for the best.
About the Author
By Elle Aldridge, a safety & security expert and editor for Home Security System.  Follow her on twitter @ElleEAldridge