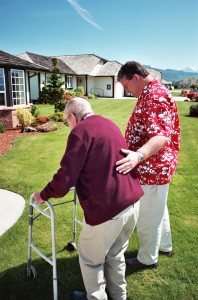 My mom had a stroke two years ago. The healing process is still ongoing, and I remember even just a year ago she would suddenly burst into tears if she was having a particularly rough go of it that day. She would be so disappointed with herself for not being able to do things as she did before – from flying her own plane over the countryside to adventurously riding her horses by herself. There is still healing to be done, but she has made huge strides. As a first time caregiver, it can get a bit overwhelming to deal with, but understanding the healing process really helps.
Healing from a stroke is a slow process.
I remember my sister brought over her children to visit us not long after the stroke, and my mother got so overwhelmed with the kids and having her mind flooded with happy memories from her past, "healthy" self.
If you are caring for an elder recovering from a stroke, I am sure you have experienced some of what I have discussed. The main goals of a caretaker should be to maintain a positive attitude in the stroke victim with emotional support and an environment of mental and physical healing in addition to ensuring that a second stroke does not occur.
Emotional support
This part can be quite trying, but also very rewarding. I've never been closer to my mother, and I am so glad I've been able to care for her at my home even though it has been stressful. Remember to care for yourself too! It's important to deal with the stress inherent in caregiving – ask for help from other family members and get plenty of alone time!
Mental healing
Stimulating and teaching the areas of the brain to function in ways they never have before isn't as hard as it seems. There is a free app we love called Mind Games that helps with many things including memory and critical thinking. There are many brain fitness programs to help mentally sharpen any mind, whether the elder wants to lower his or her risk of dementia or heal after a stroke.
In addition to the app my mother uses, we play board games and card games. This is not just for fun, but also to exercise her mind. The more she uses it, the more quickly and efficiently she can think. The goal is to get to the same level as where she was mentally before the stroke, and I fully believe in her ability to get there.
Physical healing
Physically strengthening the body with exercise including aerobic and muscle training is very important in the healing process. My mother's left side of her body was still very weak a year and a half ago, but now it is stronger and nearly completely healthy.
We go on 30 minutes worth of brisk walks daily in addition to the occasional yoga or Tai Chi classes we take. At first my mother was too weak for 30 minutes of walking, so we split into small chunks throughout the day. We also heard about how it is that exercising the right side of her body (that wasn't weakened by the stroke) can actually help strengthen the weaker left side as well and have started giving that a try.
This seemed counterintuitive to us too, but a new study in Experimental Brain Research has found that strengthening one side of the body actually cross-educates to the other side too. The muscles on the side that isn't getting exercised receives new connections to the brain, and participants found equivalent strength gains in both legs after 25 minute sessions three times a week.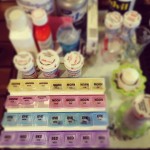 Medication
Healing can mean taking medication to prevent blood clots from forming. My mother has a heart condition called Atrial Fibrillation, which causes the blood to pool in the heart as the heart beats irregularly. Anticoagulants work really well for her, but they can be dangerous depending on which drug you get. Always be aware of the dangers of drug side effects. It's better to know what the risks are than to pay with your health for any ignorance later. A good example is the Pradaxa lawsuits due to irreversible internal bleeding.
With emotional support and mental and physical healing, there is life after a stroke. With patience, positivity, and taking a day at a time, you and your loved one will get through the healing process.
About the Author
Madeline Ferdinand is a writer for DrugNews.net. Her main goal is to keep the old youthful and the youthful wise. She likes piña coladas and getting caught in the rain (in moderation of course).