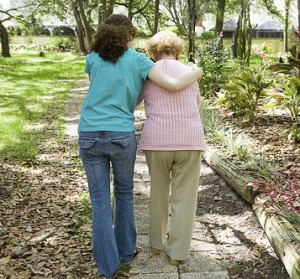 As people age, the simplest daily tasks we're used to doing can become increasingly difficult to complete, but what can be even more difficult is entering a stage when the realization that the days of an independent lifestyle may be coming to an end, especially after living a full and independent life where he or she learned to be self-reliant.  This realization can lead to denial of the situation, and even more so when others begin to take notice.  Moving from a life like that can be incredibly difficult and it's completely understandable.  People often don't want to admit they need assistance, even when it's clear they do.
If you find yourself in a similar situation and notice a parent or loved one is in need of assistance, but has shunned attempts at help, it can be an incredibly challenging hurdle to overcome the denial of the circumstance.  It may be possible if you've noticed a shift in behavior and attitude, especially if it appears to be dramatic, that the person be developing a neurological condition.  It doesn't necessarily mean its dementia or even Alzheimer's, but any change over a period, brief or extended, should be addressed by a healthcare professional.  A geriatric screening may be beneficial.
Of course, even getting a geriatric screening can be another challenge to overcome with someone who is stubborn, prideful, and unabashedly independent.  However, if you are in a caregiving position, there are several things to consider that will make caring for a strong-willed individual.
Patience.
It may be a cliché to call patience a virtue, but in this case, having patience with a stubborn individual or someone who has dementia is critical.  A lack of patience will only lead to grief and misery for both parties and it will create a highly stressful situation.  There will be a considerable amount of stress.  In caregiving, it's unavoidable.  Managing the stress and having patience is a major first step, but managing stress is a learning process.  It's about knowing when to take a step back and to breathe.
Plus, if you're caring for a loved one, it can be emotionally and physically taxing.  You might ask yourself what you're getting out of it. Emotions can certainly run high and probably will.  If it does become too taxing and stressful, don't be afraid to find someone else to provide care.  A great way to reduce stress on both you and the person you are caring for is to stay active.  Keeping mentally and physically active is critical.  When they aren't active, it can be detrimental to their health and mood and if they are already in a state of declining health it can worsen their condition.
Listen.
You don't want to be the only one doing the communicating.  Listen to what the person has to say and remember that not all communication is verbal.  Look for nonverbal cues in body language and behavior.  If the person wants to be alone, it's ok to let them be alone for a while.  Instead of demanding that they need your or a caregiver's help, ask them and engage them in conversation.  If the person is a parent, it can be especially difficult because there can often be a sense of betrayal, which goes both ways.  In any case, you want to be direct and straightforward when you communicated and respond.  You want to avoid letting the person's hostility to manifest itself in you, because if it does, it can be difficult to recover from and can easily break your patience.
It's also important not to expect an immediate positive change—or a change at all—in the individual during you care of them.  While you're a support structure in someone's life, a pillar, they may lack the cognitive ability to realize that.
About the Author
Christian Wilson currently works in the home care industry. He writes about issues facing the elderly and spends a lot of his work day answering questions regarding home care. When he's not at work he enjoys traveling with his family and meeting new people.