Late in 2008, I surveyed nearly 200 families to better understand their concerns with aging. An overwhelming 75% indicated that "paying for senior care" was their primary concern.  Since the publication of my first book — the By Families, For Families Guide to Assisted Living — I've spoken to thousands of families, seniors and senior care providers.  These individuals reaffirmed these fears and expressed concern that there just wasn't a easy-to-understand resource discussing how to pay for senior care.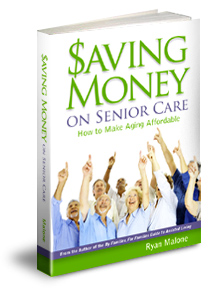 So I decided to write it.
Saving Money on Senior Care: How to Make Aging Affordable answers these concerns and takes the first step to ease these fears.  This guide discusses many issues impacting families' ability to pay for senior care and takes a no-nonsense approach to educate you on the six most impactful options: reverse mortgages, VA benefits, life settlements, Medicare planning, long-term care insurance and the unique senior line of credit.
It's far more than the superficial discussion on most senior care websites.  For each financing option, you'll learn:
How the option works – in plain, simple English
What families are the best fit
What families are the worst fit
Real-world examples
What to look for (and avoid) in a provider
What questions to ask to ensure you get the best deal
Access to an exclusive list of providers in your state
How to Buy Saving Money on Senior Care: How to Make Aging Affordable
Choose one of the affordable options below:
Payment Options: We accept the following forms of payment: Visa, MasterCard, American Express and PayPal and personal checks. Personal checks should be made payable to SmartBug Media, Inc. at 2549-B Eastbluff Drive, #417, Newport Beach, CA 92660. Please include your email address and a telephone number. California residents will be charged 8.75% sales tax.
YOUR SATISFACTION GUARANTEED: I believe strongly this collection will provide you with peace of mind and a deeper understanding of assisted living. If you are not completely satisfied, your money will be refunded. Please contact us within 30 days with your receipt for a refund.
For questions, please email orders@smartbugmedia.com or call +1-949-209-9442.