The By Families, For Families Guide to Assisted Living: A Step-by-Step Guide to Evaluating and Transitioning to an Assisted Living Community
Assisted living doesn't have to be just the next place for Mom and Dad.  It can be the foundation for many years of fantastic memories.  Assisted living author and expert Ryan Malone shares with you the secrets only revealed by someone who has made assisted living a positive and rewarding experience for his mother and family.
The By Families, For Families Guide to Assisted Living provides the inside tips, tricks and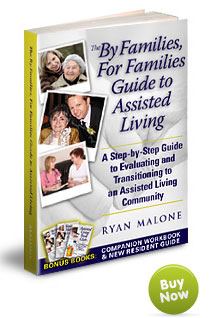 secrets to evaluating and transitioning a loved one to assisted living.  Based on real experiences Ryan had while transitioning his mother after a stroke, the book tells you everything you need – from choosing a facility, to managing the staff, to ensuring the first 30 days are filled with smiles.
A powerful and easy-to-apply workbook is included and serves as your companion and notebook during this transition.  The workbook offers step-by-step exercises to help you make the best decisions quickly.  Included with the workbook is a sample advanced healthcare directive and a typical assisted living residency agreement – both critical in negotiating your loved one's first rental agreement.
Special Bonus
You cannot by these bonus gifts separately.  But they are the difference-makers, and they are free when you order the book.
With your purchase, you will immediately get access to:
Bonus #1: The first-of-its-kind "Your First 30 Days in Assisted Living" guide for incoming residents. Written in BIG PRINT, Ryan and his mother share tips for making your loved one's first 30 days full of laughs, fun and friends.
Bonus #2: The streamlined "Assisted Living Book Club" reviews the top 10 books you should consider and introduces keys subjects in assisted living, caregiving and elder care. This bonus will save you hours at the bookstore alone.
"'By Families, for Families Guide to Assisted Living' is a much needed tool for those looking at assisted living. I'm impressed by the practical help combined with the stories of real people. No one knows an issue like someone who has been there."
Carol Bradley Bursack, author of "Minding Our Elders"
"Ryan Malone's valuable and motivating book, 'By Families, For Families Guide to Assisted Living', provides an inside view on how to make moving to and then living in Assisted Living a great experience for you and your loved one!"
Jacqueline Marcell, author of "Elder Rage", International Speaker, and Host of the "Coping with Caregiving" Radio Show
"Thanks for writing such a complete "paint-by-the numbers" guide to choosing the Assisted Living arrangements. It is an essential, easy-to-follow family-focused resource for any one evaluating the
important move to assisted living community.  Your insightful information– particularly what you reveal on page 113 — enables family caregivers to handle unforeseen challenges swiftly and smoothly."
Martin Sabel, www.MrEldercareOnline.com
Sample chapter and table of contents (PDF)
With this book and no required knowledge of assisted living, you will learn to:
Assess your loved one's condition and identify signs they may need assistance
Fully understand cost requirements of assisted living, long-term care insurance and private caregivers
Understand and negotiate residency agreements – your loved one's community lease
Spot and avoid the pitfalls of detrimental activity calendars that lack cognitive and physical stimulation – featuring interviews with renowned activity director Terri Glimcher
Create and use a support network to reduce your personal stress
Locate and select potential communities by unlocking the secrets that should play a major role in your final selection
Hire and leverage private caregivers who can be your most valuable resource – featuring interviews with caregiving industry veteran Julie Northcutt
Interact with community executives and staff to ensure your loved one has the care and programming they require
Utilize exciting new technology to make your caregiving easier
Turn assisted living into something you can be proud of
And a whole lot more!
Transitioning a loved one to assisted living will be one of the biggest decisions of your life.  You will be likely be stressed out, panicked and under immense pressure from family and friends to make "the right decision."  This book will provide the structure and process to give you peace of mind and calm in effectively evaluating and executing a transition to assisted living.
This book provides what web sites and the bookstores have not: the combination of personal success with proven strategies that work.  Regardless of your knowledge of assisted living today, you will go from novice to expert and sleep well know you made your decision "eyes wide open" and fully-informed.
About the Author: Ryan Malone is the managing editor of Inside Assisted Living, the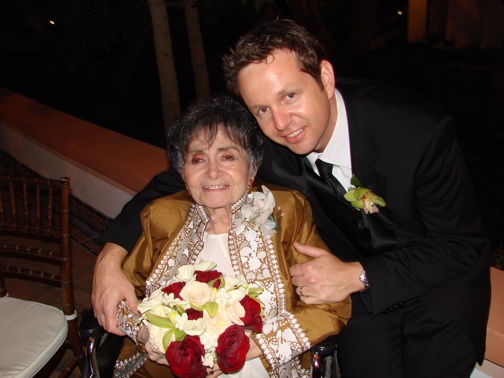 leading online resource for helping families evaluate and understand the transition to assisted living.  A pioneer in the "by families, for families" approach to assisted living and elder care, Ryan continues to play an active role in his mother's care.  Ryan is a Political Science graduate from the University of Maryland and holds an M.B.A from the UC Irvine Paul Merage School of Business.
Choose one of the options below:
Paperback and e-Book Combo (click to buy) – $39.00
Includes the paperback book, e-book in PDF format and all free bonuses (a $145.00 value).  Free bonuses and e-book are available for download immediately after purchase.  Best value if you need to make decisions immediately.
Paperback Combo (click to buy) – $29.00
Includes the paperback book and all free bonuses (a $135.00 value).  Free bonuses are available for download immediately after purchase.
e-Book Only (click to buy) – $19.00
Includes e-book in PDF format and all free bonuses (a $125.00 value).  e-Book and free bonuses are available for download immediately after purchase.
Payment Options: We accept the following forms of payment: Visa, MasterCard, PayPal and personal check.  Personal checks should be made payable to SmartBug Media, Inc. at P.O. Box 13128, Newport Beach, CA 92658.   Please include your email address and a telephone number.  Your email is required for delivery of your free bonuses.  California residents will be charged 8.75% sales tax.
YOUR SATISFACTION GUARANTEED: I believe strongly this collection will provide you with peace of mind and a deeper understanding of assisted living.  If you are not completely satisfied, your money will be refunded.  Please contact us within 30 days with your receipt for a refund.
For questions, please email orders@insideeldercare.com or call +1-949-209-9442.