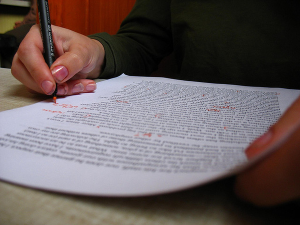 One of the most daunting tasks of a transition to assisted living is the signing of the residency agreement. Similar to a rental agreement or lease on an apartment, the residency agreement governs cost, services and termination options for your loved one's stay in assisted living.
It always struck me as odd how little families pay attention to these agreements. We spend hours test driving cars or strolling through the mall, but oddly, very few people read these agreements in detail. And even fewer take them to an attorney for review.
What is a Residency Agreement?
If you Google search "assisted living residency agreement," you will find many agreements from state or local agencies or assisted living communities. For the purposes of this blog, I'll be walking through a standard residency agreement from a typical assisted living community. While many agreements may be smaller, this particular agreement is relatively thorough, easy to read and provides a great example for discussion. And with the consolidation occurring in the industry, it makes sense to start there.
Core Components of a Residency Agreement
A residency agreement has many specific sections, but they can be grouped for the sake of discussion into several topics. They are:
Accommodations and Term. This topic deals with the actual unit being rented and the duration of the residency agreement.
Fees, Core Services and Meals. This topic sets the fee schedule and identifies both included and extra costs. This topic also discusses the "what, when, where, how" of meal service.
Residency Qualifications. This topic discusses the qualifications required to be admitted to the community and maintain residency.
Maintenance and Use. This topic communicates the service levels regarding building and unit maintenance, and identifies how the rented unit is to be (and not be) used.
Termination, Legal Stuff and Arbitration. This topic sets how the agreement can be terminated and includes a lot of standard legal language. One important item discussed in this section it arbitration.
Always remember with contracts that many things are negotiable, so don't hesitate to ask. This is especially true if the community has many vacancies.
Now we will look at each section of the sample agreement and provide tips, concerns, items to be aware and suggestions to negotiate. I recommend you have an attorney review any contract that is presented to you.
I. Living Accommodations
This section of the contract describes the unit and common areas to be leased by the resident. The language in this section is fairly self-explanatory. Some things to be aware of include:
Confirm the exact unit identified in the contract is the unit you've agreed to rent
Confirm that your loved one, his/her friends and your family have the right to use common areas. These are areas of the community that are freely available to residents, although some communities put restrictions on who other than residents can use them.
II. Term of Residency Agreement
This section of the contract defines the term of the agreement and what happens at termination. Several things are defined: the resident's rights to ownership (there are none), the length of the agreement, and the "what do to" at termination and with personal property. Things to be aware of in this section include:
The length of the agreement should preferably be monthly. Be cautious of longer agreements, especially if you have no termination rights in the event your loved one is no longer able to live there.
No auto-renewal. In the event you agree to a term longer than monthly, ensure there is no auto-renewal clause. As you may imagine from its name, auto-renewal automatically renews the contract for a specified period of time, unless you notify in writing your desire not to renew. If the term is monthly, then auto-renewal doesn't matter as much as you'll only have 30 days exposure financially.
Limit obligations at vacancy. Whether it is due to health or death, inquire about your obligations in the event your loved one is no longer able to reside in the community. Some examples include: How long are you obligated to pay after your loved one has left? How long do you have to remove his or her belongings?
Reasonable notice. Ensure your loved one is provided reasonable notice before the community shows your unit to a potential resident. 24-48 hours is reasonable in most situations. Try to avoid anything that doesn't require notice, as this can be stressful to your loved one.
These sections are fairly standard, but the above tips will help you ask the right questions and negotiate where you feel necessary.
VII. Residency Qualifications
This section is designed to protect both your loved one and the assisted living community. Why? Assisted living communities are only licensed and staffed to provide certain types of care. By defining the qualifications of residency, the community ensures they have the staff and resources to take care of your loved one. There are also requirements to protect other residents such as those requirements around contagions like tuberculosis.
Some things you should be aware of:
Review the minimum requirements carefully and make sure your loved one meets these requirements. It's important to be honest with yourself, as you don't want to be in a situation where you've violated the agreement within the first week.
Does the contract state what happens in the event your loved one ceases to meet these requirements? For example, will they be forced to move out and with what notice? Is there an appeal process to dispute whether your loved one meets the requirements? How does that process work?
Some communities may require the presentation of medical records or results from a recent medical exam. Make sure the contract ensures the results of the exam are kept confidential except as released by you or your loved one.
Some communities may require a pre-admission assessment in which a nurse and community executive conduct an interview and/or medical exam. Make sure to understand in advance the purpose of the exam and what will be covered.
Skilled Nursing Transfers
My mother came to assisted living from a skilled nursing community. In her case, the assisted living community did not conduct a pre-admission assessment. However, they did require medical records from the skilled nursing community and had a lengthy conversation with the head nurse.
In this case, you should follow up with both parties to ensure consistency of the results. The goal here is to avoid any inconsistencies during the admission process. While this part of the contract may in some cases appear intimidating, it is important to realize that it benefits both parties.
VIII. Maintenance, Repairs and Alterations
This section defines the rules to be followed regarding redecoration, alterations and basic housekeeping. It also defines to what extent the assisted living community will be responsible for maintenance and repairs, as well as the resident's responsibility for damages.
I think most people will find this section to be reasonable and consistent with renting a house or apartment. However, you should read it closely to be sure there are no unreasonable requirements in the contract.
Some things to be aware of:
You and your loved one will likely want their unit to feel like home, and therefore may want to redecorate. While our sample agreement provides for things like paint and wallpaper, you should ask specifically if you intend to do something not mentioned. If the community agrees with your request, get it in writing during the contract negotiation. Similar, if you are already a resident, all redecorations should be pre-approved in writing before the project begins.
Similar to redecorating, should you wish to make structural or non- structural alterations to the unit, make sure you get written permission during the contract negotiation. Usually, the cost for non-structural alterations like fixtures, toilet items and shelving are the responsibility of the resident. If your loved one is handicap or disabled, the community should make reasonable efforts to accommodate their needs. In our sample agreement, this language is very vague. Make sure you articulate your loved one's needs and get in writing the community's intent to provide those alterations. You should also insist that these alterations are completed prior to your agreed up move-in date.
Most communities provide some housekeeping services and things like routine carpet cleaning. Some communities charge extra for additional housekeeping. If you intend to have an outside housekeeper visit your loved one's unit, make sure this is allowed for in the agreement.
Damages are often ambiguous in many lease agreements and residency agreements are no different. Ask the community to define damages versus normal wear and tear and to give examples. Some questions to ask: Who conducts the repairs? Are costs based on actual material cost or does the resident pay for asso-ciated labor as well? How do residents resolve situations in which repair costs appear to be abnormally high? If the resident can repair the damage on their own, how much time do they have to complete the project?
Stay tuned for part two of this post next week, where we'll continue to work our way through the sections of a sample residencey agreement.
Photo credit: Orin Zebest