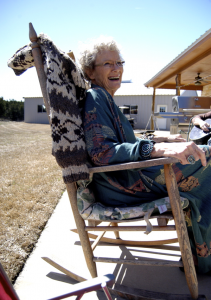 Recall that assisted living communities offer your loved one a place to live where they can receive basic assistance, while retaining a measure of their privacy and independence. This assistance could be housekeeping, meal preparation, 24-7 monitoring, shower assistance, toileting, medication assistance or reminders; transportation and help with eating, or dressing. The amenities of assisted living should also include interesting and engaging activities, as well as opportunities for social activity.
Assisted living communities vary in size. In a small assisted living community, you will have 16 or fewer apartments/rooms (much like a residential home). In a large community, you will have over 17 apartments/rooms and up to over 100 apartments/rooms.
You can locate local assisted living communities through a number of means. I've found both the Medicare tool and several public web sites will cast a wide net for you to start your search
The Internet is playing a growing role in caregiving and healthcare. One such tool worth mentioning here is Medicare's Long-Term Care Planning Tool. The stated goals of Medicare's Long-Term Care Planning tool are to help you understand:
What long-term care services are available
How much you can expect to pay for long-term care
What financing options are available to support your long-term care costs
This tool will ask between twelve and twenty questions and will then provide you with the long-term care results you need by comparing your answers to those of individuals with similar profiles.
For those that want a quick snapshot of communities, the tool only requires a few questions. However, if you have specific care needs, financial constraints or care needs, the tool enables you to indicate those requirements.
While the results of this online tool are general in nature, and certainly not intended to replace comprehensive financial and other long-term personal planning, they will give you important insights.
An initial recommendation can be provided from only a few basic questions. By answering optional questions, the user can further narrow the list of recommendations. Here's a tip: be sure to check out the Resources tab while you're on the site. There's a wealth of links to various government programs and agencies
Other Ways to Search
In addition to the Medicare online tool just mentioned, I've got some tips to get you started on choosing the right assisted living community for your loved one. First, you'll want to know all of the options in the area in which you are interested. To get a full list of the communities near you, you can:
Visit or call your local senior center
Use Google to find the listings for assisted living in your area or zip code
Get a list from a local hospital or skilled nursing community
Or Go "old-school" and look in the Yellow Pages
Assisted living communities aren't always easy to find, and many are nestled in between neighborhoods. While there are many sites on the Internet that list assisted living options on a regional basis, such as the ones listed above, the three that I found most useful are noted below. They're good places to take a broad view of what's available. Write down the ones closest to you. As you work your way through the process,  you'll want to narrow this down to a short-list to choose from.
My favorites:
Snap For Seniors
Snap for Senior is a great resource for senior care communities and has the largest database of senior resources in the country.  I've met the co-founders Derek Preston and Eve Stern and they are fantastic people with a high-degree of integrity.  I would start my search there.
Senior Housing Net
Senior Housing Net is a fee community located from Move.com. Through this site, you can find local assisted living communities as well as prepared for your loved one's move.
ElderCarelink
ElderCarelink is an internet-based referral service–free to consumers–that specializes in eldercare case matching for elders and their families. ElderCarelink assists families in finding a multitude of services, including assisted living, nursing homes, adult day care, private duty nursing, care management and homecare.
Stay tuned for part two of this blog post next week with more tips and suggestions on finding assisted living communities.
Photo Credit: maureen lunn