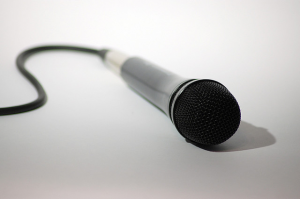 During my research on assisted living communities and elder care, I met a woman whom I consider to be the model activities director. Her name is Terri Glimcher and she is the Life Enrichment Coordinator for Emeritus Senior Living. In addition to her duties at Oak Park Assisted Living in Clermont, Florida, she also serves as a trainer for many other local communities. If her techniques were universally adopted, this chapter would be completely unnecessary.
I've spoken to Terri several times during the course of my research, as she is a true expert in her field. She gets it!
To reword our discussion would not serve her great work justice, so I've included the entire transcript of our discussion.
RYAN: Thanks for spending the time with me, Terri. The work you've done at Emeritus has been amazing.
TERRI: Thanks for the kind words.
RYAN: Let's go ahead and get started. What is your role at the company?
TERRI: I am the Life Enrichment Coordinator for Summerville at Oak Park Assisted Living, an Emeritus Senior Living property in Clermont Florida. I am also on the marketing team here at Oak Park.
RYAN: Sounds like a lot of hats! Being a marketing guy from a previous life I know what you're going through. I'd like to focus on the activities portion of your responsibilities. Would that be okay?
TERRI: Sure.
RYAN: What is the role of "activities" in an assisted living environment?
TERRI: Great question! Activities play a very important role in assisted living. It is very important to keep the mind and body challenged and stimulated throughout the day. More importantly, however, is the socialization that comes with activities. It is very important for your loved one to feel connected in their new residence. Activities will help to do this. Activities also help the resident continue to enjoy many things they used to do. This consistency helps with the overall transition to assisted living.
RYAN: That makes a lot of sense. I know it was tough for my mom to transition to assisted living, because she was so active before.
TERRI: What did she do?
RYAN: She was involved in women's club, some charities and card parties with her lady friends. She missed all that when she got into assisted living, as she remembered what is was like before her stroke.
TERRI: That sounds tough.

RYAN: It was. Anyway, let me ask you another question. What do most assisted living communities do wrong with regard to activities?
TERRI: I only know from many that I have observed that they do not meet the needs of ALL residents. They focus on the mainstream population and often have activities that people with special needs such as physical, visual or hearing cannot participate in. In my community, we make sure that adaptive equipment is in place so that all residents can participate in any activity.
RYAN: That great to hear…
TERRI: I also firmly believe that the residents should have choices in their schedule, which is why a resident council should be in place. This is their home and activities should be available at all times for residents to participate in as a group or individually. That piece lacks in many communities. Another important factor is that the assisted living community should be connected to the local community. Many times residents feel isolated because their whole world revolves around the community. The community is very open to seniors and it is a great way to keep them connected.

RYAN: Your approach sounds really unique. What have you planned that is unique?
TERRI: I really believe that most of my activities are unique in that age never plays a role in what I plan. We are always involved in a community service project of some kind. My knitting class made baby hats for the neonatal unit at our local hospital. We donated 150 hats. They were also involved in the Give a Kid a Backpack Program here. The residents hand-craft a beautiful teddy bear to go in each backpack received by the children. We have made soldier caps that were sent to Iraq, we raised money for breast cancer awareness and many more. Seniors enjoy giving back. They feel a part of a bigger picture.
RYAN: That's really amazing. This is the kind of thing that probably makes a big difference to the residents. It seems like having a purpose is often missing for many of the assisted living residents I've met.
TERRI: Absolutely. In talking with the residents, I learned that not working and not having responsibilities was the hardest part for them. In hearing that, I came up with a list of jobs within our building and held a huge job fair for the residents. Each resident who wanted a job came down dressed up, filled out an application for the position, and was interviewed by me. This gave them a chance to tell me about their former careers and what it was like to work when they were growing up. It was wonderful. They all got the jobs they applied for — floral committee, taking statistics, welcome committee, sending get well cards, watering plants etc. I can tell you that for three years, every one of them has taken their job very seriously. We are a family here, and it takes a family to make it work. They receive $100.00 a week funny money and shop at our General Store.
TERRI: I also started the Bridging the Generations program with all the local high schools. This is ongoing for three years now. The high school kids come to Oak Park and are paired up with the residents. They do projects together, cook together, etc. We celebrate holidays with the students. I bring the residents into the high school so that students learn about the aging process. The students play their instruments for the residents and work on their science fair projects with them. The residents are truly mentors for these students. We have been recognized by the Orlando Sentinel many times for outstanding programs here. One of our greatest activities was "Biker Day" at Oak Park. A local merchant brought their Harley's to Oak Park. Each resident dressed up in leathers with headbands and posed for pictures on the bikes. We sent pictures to the families saying "And you thought your loved one was at home knitting!" We got a huge response of laughter from all involved. It was a blast!
RYAN: (Laughs) That sounds incredible. You really owe yourself a pat on the back for such great work! Can you please send me a picture of Biker Day? That sounds awesome!
TERRI: Sure, no problem.
RYAN: So, in your opinion, how have the residents benefited from those unique activities?
TERRI: The residents feel a part of the community. They truly see that they make a difference. They are loved and respected by so many people in this community. The merchants come here to do activities with them. The local florist does flower arranging, Home Depot does workshops with them, Ritters Frozen Custard makes sundaes here, and we have a merchant that sets up a fruit stand in our lobby with fresh fruits and veggies that the residents can choose at no charge. They feel very connected. It's not just being part of their residence, but still maintaining a sense of community. That is important factor in maintaining good emotional health.
RYAN: Very cool. How do you mix physical and cognitive activities?
TERRI: I do a lot of physical and cognitive activities. I run a cooking class. We have measuring, kneading, peeling, cutting, those are all good ways to combined both physical and cognitive. We bowl and golf both in the community and out. The residents keep the score. We play twister with word games. Scavenger hunts, walking club, following a map to the destination. Most of the activities have both components as a part of it.
RYAN: I really appreciate your spending so much time with me. I am learning so much. I have a couple more questions if that is okay?
TERRI: Sure, happy to spend the time with someone who's so passionate about it.
RYAN: Thanks! Ok, so what would you recommend from an activities perspective to readers evaluating assisted living communities?
TERRI: I think it's very important to ask a lot of questions. You want to make sure that there are activities going on all day that include, physical activities, crafts that include a product that the residents can take to their rooms, outings, and cognitive activities. You want your loved one to be able to make choices in his or her schedule. A big component is to find out how they will help your family member connect when they first come in to the community. "What can you do to help my mom or dad connect if they do not want to come out of their room?" You should also make sure that there are outings outside of the community and that there is community involvement consistently. If people are sitting in the lobby with no activity, chances are that is the way it will be when your loved one lives there. Look for resident participation – talk to the residents. They are the best indicators of what truly goes on in the assisted living community. They will tell you if they are active or not. Stimulation is very important. If you don't use all your faculties, you begin to lose them. Make sure each and every part of your loved one is being challenged daily.
RYAN: Last question. Do you have any other advice for the readers?
TERRI: Take the time to look around at different communities. Talk to residents; request a report from the Department on Aging for the state survey of the community. You can request it from the community as well. They have to show it to you. That is the law. This will give you the information on any violations the community has had. It covers resident care as well as dietary issues. This is an important piece of information to have. There are agencies that are able to help with the cost of assisted living. If you are a spouse of a veteran or a veteran yourself, there are ways to receive help. Look in to all options before making your decision. Remember, this is your family member's home. It should not have a community feel but the feel of being home.
Terri's activities plan is not the norm, although I wish it were. However, it should serve as an example of the kinds of things available to your loved one.
Unfortunately, many assisted living communities follow our typical day example rather than the fine example Terri has described. Do not be lazy about finding a community with good activities. It is a major social and emotional outlet for your loved one.
Photo credit: visual.dichotomy