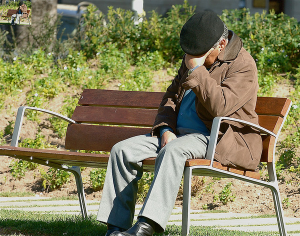 Elder abuse is something that occurs in the United States more frequently than many of us know.  According to Elder Abuse Daily in 2010, there are almost 6 million elder abuse cases every year.  This estimate demonstrates a growth since the American Psychological Association reported in 1999 that an average of over 2.1 million elder abuse cases occur every year.
According to the U.S. Administration on Aging, elder abuse is the, "knowing, intentional, or negligent act by a caregiver or any other person that causes harm or a serious risk of harm to a vulnerable adult."  The administration states that these are the common abuse types:
Physical Abuse is the infliction of "physical pain or injury on a senior, e.g. slapping, bruising, or restraining by physical or chemical means."
Sexual Abuse is the "non-consensual sexual contact of any kind."
Neglect is "the failure by those responsible to provide food, shelter, health care, or protection for a vulnerable elder."
Exploitation is "the illegal taking, misuse, or concealment of funds, property, or assets of a senior for someone else's benefit."
Emotional Abuse is the infliction of "mental pain, anguish, or distress on an elder person through verbal or nonverbal acts, e.g. humiliating, intimidating, or threatening."
Abandonment is the "desertion of a vulnerable elder by anyone who has assumed the responsibility for care or custody of that person."
According to the National Institute of Justice (NIJ), emotional abuse, financial abuse, and neglect are the most prevalent of all elder abuses.
Unfortunately, elder abuse is not a crime commonly reported.  The National Center on Elder Abuse estimates that 83 percent of elder abuse cases never get reported.  According to a 2009 NIJ research report, the majority of the elderly's abusers are people they know.  Through surveys, the NIJ found that the elderly are most likely to underrepresent abuses:
That happened more than a year ago.
That they did not report them to the police.
If the abuser was not a stranger.
Sadly, the unwillingness of the elderly to properly represent or report these abuses is detrimental; the majority of elders surveyed by the NIJ had been abused over a year ago, had not reported the abuse to police, and knew their abuser/s.
How to Protect the Elderly from Abuse
In order to protect your elderly loved one from abuse, you must:
Ensure he/she is in a quality elder care program.
Do research.
Ask the elder care facilities that you visit for their state survey reports.
Visit, inspect, and ask questions.
Ensure that your chosen facility has a proper staff-resident ratio. According to the Health and Human Services (HHS), 90 percent of nursing homes are understaffed. Nursing home staffs spend less than 3 hours total with residents each day (HHS) despite about 4 hours being what the government and expert recommendation for patient care each day.
Check on your loved one frequently.Visit your loved one as much as possible to ensure he/she is receiving sufficient senior care.
Physically check your loved one for signs of abuse. A list of abuse symptoms can be found on the NIJ website.
Know your loved one's rights as a resident. You can view these rights on the website below or by asking your loved one's care facility for a copy of your state's "Resident's Bill of Rights."
About the Author: Amber Paley is a guest blogger and article writer specializing in elder abuse prevention. Amber spends much of her professional life writing about abuse in nursing homes.
Photo credit: pedrosimoes7