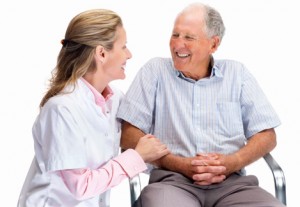 When faced with the choice between living in an elderly care facility or aging as independently as possible at home, home health care is almost always the more desirable choice. Still, it's not always easy to build a feasible support system for aging seniors who wish to retain as much independence and dignity as possible by continuing to live in their own homes.
Understanding the unique needs of an individual patient and the level of care required to help them stay in their own homes doesn't have to be complicated. With the right assistance in place and a plan of action, it's very possible to help your loved ones retain some semblance of an independent, healthy lifestyle well into their golden years.
Realistic Evaluation of Need
To create a plan for an extended aging-in-place arrangement, it's imperative to objectively take stock of your loved one's needs and requirements. Some seniors will require little more than a few hours a day of supervision, which includes assistance with housekeeping and management of medication or physical therapy. Others may require more intensive services and direct medical care, transportation to and from appointments with physicians or daily living task assistance like bathing and dressing, which will typically require several hours or even round-the-clock care. Whether your loved one falls at one end of the spectrum or the other, or somewhere in between, enabling them to maintain as normal a routine as possible will require you to have a clear understanding of their needs and the necessary level of care.
Benefits of Home Health Care
Data from current research indicates that seniors who are encouraged to maintain a high level of independence through home health care also show higher levels of mobility, bladder control and emotional well-being. These patients are also less likely to require urgent, unplanned care as a result of injuries, falls or accidental medication mismanagement. Transitioning to a residential care facility may often leave your loved one with less independence and less freedom, which has been linked to higher levels of depression and anxiety. In the vast majority of situations, aging in place with home assistance is the most effective and comfortable solution for all involved parties.
Facilitating a successful home health care plan will allow your aging loved one to retain more control over their daily activities, while helping to prevent injuries, medication mishaps and even problems like malnutrition. Living at home, even with a chronic illness, a disability or an age-related reduction in mobility, is often the best possible option for both the physical and emotional health of a senior citizen. Home health care also helps to stave off feelings of loneliness and social isolation, which are relatively common among seniors.
Creating a Feasible Alternative to Facility Living
Families committed to helping their aging loved ones to live out their remaining years in dignity and the best possible health may know how important aging in place is to their family member's emotional and physical health, but not how to execute a feasible plan for facilitating such an arrangement.
After assessing your loved one's level of need, it's time to determine the best way of building a support system to meet those needs. Family care can be a far less expensive alternative in some situations, but isn't always feasible. Unless someone is able to dedicate some time each day to the management of medication and nutrition, along with basic daily needs, it may become necessary to work with a professional care provider. For some families, an ideal arrangement may consist of primarily family-driven care, with supplemental assistance from a professional caregiver or home health care provider. Because every situation is unique, your plan for enabling your loved one to age in place must also be customized to fit the existing level of need. Maintaining an open line of communication with your loved one's primary care physicians and other medical care providers is one of the best ways to determine the most effective course of action, especially when aging in place is the preferred option.
About the Author
Selwyn St. Louis is the Director and CEO of Better Living Senior Services, located in Tampa Bay, Florida. Since 2009, Selwyn has been on a mission to help those in need with home health care options for the elderly.