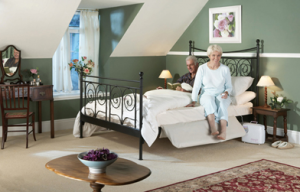 If getting in and out of bed is becoming unsafe for you or a relative due to functional decline, then installing a transfer mobility aid in the bedroom can help to improve your comfort and safety, for a youthful mind and body. This can allow you to remain independent and safe by reducing the risk of falls. If you decide that a transfer aid would improve your ability to get in and out of bed then the following helpful guide on grab handles, lifting poles and leg lifters will prove useful.
Grab handles
What are they? These are handles which can be firmly fixed under a mattress or onto a bed base or by the side of the bed to improve stability when getting in and out of bed. Grab handles can be fixed to beds, walls or floors; certain models can be fixed into different positions to suit the person's specific needs.
Is a grab handle the best option for you? As long as you are able to maintain a certain level of strength in your arms, this may be the simplest solution. Otherwise, other options would need to be explored.
Is available space an issue? Grab handles take up little room and can prove a useful addition to many elderly people's bedrooms.
What else do I need to consider? Fixed grab handles may obstruct parts of the bedside and make, for example, reaching for items on a bedside table potentially hazardous; you should make sure that the handle is properly secured. Certain models are tucked under the mattress and kept in place by the person's weight. In this case, the user will need to distribute their mass evenly to ensure the rail remains in place.
Lifting poles
What are they? These are metal gantries which can be free standing or fixed to a wall. They should also come with a strap and grab handle that can be positioned to suit the user's needs. Once in place, the user is able to pull themselves into a sitting position which can help with getting in or out of bed.
Is a lifting pole the best option for you? This may not be a suitable option for elderly persons who have painful arms and shoulders or a limited range of movement. It also requires the user to have good abdominal control.
Is available space an issue? The lifting pole can slide under the bed and the hand grip be accessed when in bed, so space is not really an issue. However, you may wish to choose a model that fits in with the décor of your bedroom.
What else do I need to consider? You should make sure that any freestanding lifting pole is properly secured or it may tip over. Choose a model with a moulded handgrip for comfort and consider one that can be dismantled and moved, as this can prove useful for going on holiday or moving house.
Leg lifters
What are they? This is a type of transfer aid that helps elderly people get their legs in or out of bed when they are finding the act of lifting their legs difficult.
Is a leg lifter the best option for you? A leg lifter is a helpful mobility aid for people who have decreased strength in their legs. It is simple to use and can promote independence and safety standards in the bedroom.
Should I opt for a manual or powered leg lifter? A manual leg lifter consists of a reinforced strap with a loop at the end. This can be looped around the foot and lifted by the user's arms. It requires that the person has the strength and dexterity to perform the action. If this is not possible powered leg lifters can prove a more suitable option, as these can be fitted to the side of a bed and controlled by a remote. Powered leg lifters often employ a compressor to fill an air sack which, as it expands, raises the platform and the person's legs.
What else do I need to consider? Manual leg lifters may not be the easiest mobility aid to use if the user has minimal strength and dexterity, in which case a powered leg lifter can be a more suitable option. They can be handy to use after hip or knee replacement surgery.
These mobility aids for transferring in and out of bed require that the user have a certain level of strength and dexterity – which can be improved via tai chi for seniors as there are many misconceptions about the elderly and exercise that can be overcome. However, if this is not possible other options such as hoists may prove a better option.
If unsure, please seek the advice of an occupational therapist who will be able to fully assess the most suitable option to meet your needs.
If you have any questions then please let us know in the comments below.
About the author
Carol Robinson works with Manage at Home mobility aids and cares for her husband at home. She has seen it and done it, as it were, and hopes to pass on some of her knowledge to the readers of Inside Elder Care.