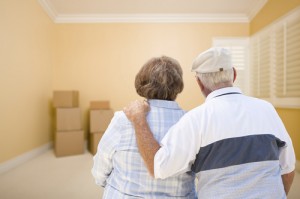 A lifetime of memories – and the possessions to prove it – are preserved in the homes of many senior loved ones. The time eventually comes when they must downsize, but most people will need help and support during this difficult and emotionally trying process.
With our many years of experience helping seniors and their families with eligibility for Medicaid sponsored long-term care and nursing home placement, the downsizing dilemma is nothing new to us and we'd like share some tips on what to expect and how to deal with the situation.
How to Know When It's Time
It's usually time to consider downsizing for your loved one when the situation falls into one of the following scenarios:
The amount of possessions has become too much for your loved one to manage as their age advances. Large amounts of possessions may be posing a hazard to their health, the quality of their life, or to the upkeep of their home. In some cases, years of hoarding may be taking it's toll and it's time to clear out items for both health and mental health reasons.
Your loved one needs to move into a smaller home. This may be a care facility, a senior living complex, or even a smaller home that is better suited to mobility limitations. The amount of items in the family home, accumulated over a lifetime, is too much to move into the new, smaller dwelling.
Start the Conversation
Broaching the subject with your loved one is often the most difficult part of the entire process. Most seniors know they need to downsize, but decluttering seems overwhelming. It's not just the physical work of downsizing, but also the emotional stress of parting with a lifetime of memories. This can make your loved one defensive, or even angry, when you bring up the subject.
You can ease the conversation by having a plan. Be willing to help and be present throughout the entire process. Come up with a strategy for dealing with hard-to-part-with items. This could be as simple as donating mindfully to those that would appreciate the items most, to creating photo-documentation of the sentimental items that your loved one can keep in an album after the physical items have moved on.
Help With the Downsizing Process
The most important thing you can do during this difficult time is to be there for your loved one every step of the process. Bring in trusted family members and friends to help, when possible, to help set your loved one's mind at ease. If you must bring in outside help, make sure you are there to help manage and monitor the process, and step in if you see your loved one becoming upset.
Get on Top of Out-of-Control Clutter
The process is made more difficult if the clutter is out-of-control. Begin by helping your loved one create an inventory of their items. This can be on paper, or you can work room-by-room and lay everything out so it's visible.
As you list items, separate them into categories – keep, donate, undecided. Get donations and trash items out of the house daily so they don't accumulate and lead to second guessing. On undecided items, you may need to take a hard line approach and insist that some things must leave. If your loved one is emotionally attached, find a compromise – such as passing the item on to another family member or adding it to the photo book.
Although this can be a difficult time, it shall pass. Your loved one will eventually feel better with less things, and it will be easier to tend to their evolving care and home requirements as they continue to age.
About The Author
Benjamin Lamm is a communication specialist and blogger at Senior Planning Services, a Medicaid planning company guiding seniors and their families through the Medicaid process. Ben enjoys playing the guitar, spending time with family and social networking.