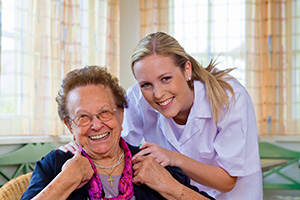 These days most people are required to live overseas, far away from their aging mom and dad, or are too packed with their job owing to which they do not have time for looking after their parents at home. This leaves them worried about the senior citizens who stay all alone at home or require an extra hand. In all such cases home care is what they are looking for.
Keep away from this one big mistake
Self esteem is one of the biggest factors for one's aging parents. Often one gets frustrated and loses their temper due to their parents' stubbornness and tenacity, not realizing the fact that they are behaving so because of a purpose. At one point of time they were the family head or key decision maker and all of a sudden with the coming of age they have become immobile and incapable to handle their own duties as a result of which they vent out this deeply frustrating feeling. And especially when they are told to leave their own home and get admitted to a nursing home for their treatment their morale is automatically doomed. For them their home is always the biggest source of strength. Although it is age that has made them dependent but it is solely family members' companionship that can work wonders in helping them fight with their bodily incapability. Often people admit their parents in hospitals thinking that it is here where they will be taken utmost care of but the truth is in 90% cases the after effects are fatal. They give up their urge for living and as a result one tends to lose their loved one for this one big mistake. In this regard in-home care acts as the greatest reprieve.
Knowing what exactly aging parents need is essential
It is very easy in getting irritated with aging parents and grandparents but one should be calm and read their minds and understand what exactly they need and offer them help accordingly.
Medical attention- Taking into consideration what illness they are suffering from one should decide the type of medical help. For instance, if they are suffering from a chronic ailment a better option will be to take the help of nursing homes. On the other hand, if they are suffering from Alzheimer's or Dementia, home care is what they need
Daily chores- It is every child's responsibility to find out the root cause of the problem that their parents are facing. Is it that they need support for their day to day chores such as toileting, bathing, grooming, grocery shopping, washing clothes, making beds or meal preparation? If so, then hiring the services of a home caregiver will be the best choice
Security- If one has to work late nights or are leaving the station for a vacation and need a support for looking after their aging family members for a specific period of time, then also opting for in-home care services will be a wise choice
Track every progression of an aging adult with infallible awareness
The trained home caregivers give one-on-one attention and care to the senior citizens that they deserve. Under these professional and safe hands one can be stress-free about the health and care of their aging parents. This indicates that irrespective of the specific impairment or disability in question, their dear ones' can remain independent within the confines of their own home as far as possible. Being professionals they are adept at observing every small change with respect to the behaviour of the patient and keep a track of their progress with infallible awareness. By viewing these current changes they can help the patient in regaining their health and self-esteem. They are well aware of the job they are doing and are swift at implementing changes. The list of home healthcare facilities that they offer include yet are not restricted to,
Meal preparation
Transportation
Companionship
Personal care
Shopping and errands
Ambulation and transfers
Housecleaning
Pet care
These in-home services vary from long-term to temporary and can be for 24 hours, twice a week or just a few hours as per one's needs.
About the Author
Scott Fagan having profound knowledge in the medical industry has highlighted the different vital prospects associated with home care services offered by CommonWealth Caregivers through the medium of this article.