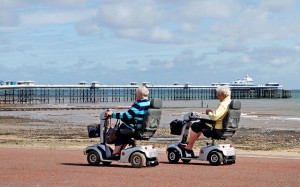 At some point in life, it's time to admit that your body is slowing down. You might not be able to stay on your feet for as long as you'd like and physical exertion may be a little bit more challenging.  If this is the case, there's no point in marching on as if nothing has changed. It's time to adapt your lifestyle to suit the needs of your body – without sacrificing anything in the process.
These days, the mobility market is positively teething with possibilities. Rather than consigning yourself to the sofa when your joints are playing up, why not invest in a mobility scooter? Long misrepresented as "old fogy" mobiles, mobility scooters can be incredibly liberating and are enjoying somewhat of a renaissance.
Liberating a Generation
In the past 10 years, battery-powered scooters have taken off and transformed the lives of many who would otherwise had trouble getting around.  One such person is Shaun Greenhalgh, 56, who has had difficulty walking since his early 30s. He's been using a scooter for 24 years and boasts a collection of 4 different models. "Like most scooter users," Shaun says, "I can walk to some degree, but only with pain and discomfort. Without it, I would have no life."
Indeed, the benefits are abundant. Instead of extensively planning a trip or organizing lifts into town, a mobility scooter gives you back the spontaneity of youth. Fancy a morning in the park or an evening ride along the pier? Go for it. Unlike static wheelchairs, you don't need anyone to help you operate your machine. Just take to the seat and you're away.
Peace of Mind
Unlike other mobility aids, you can travel significant distances without wearing yourself out. This independence is paramount to wellbeing in both a physical and mental capacity. More often than not, those who have mobility issues will suffer from depression through isolation – particularly if they have no way of readily leaving the house.
Whilst your personal circumstances might not be as restrictive, a mobility scooter gives you added peace of mind should you find yourself without transportation.
The Legal Stuff
Before you buy a mobility scooter you need to consider your options carefully. For a start, you can't legally drive one if you have problems with your sight, hearing or upper-body strength (arms and shoulders), so if the latter is the case, an electric wheelchair might be more suitable.
Secondly, mobility scooter insurance might not be a legal requirement but it sure is sensible. Part of the reason mobility scooters have suffered such a bad reputation in recent years is due to a number of high profile accidents that were not covered by insurance. "It is highly recommended," writes Chartwell Insurance, "the financial consequences of an accident, theft or breakdown could be huge – not to mention the complications of being without your scooter."
Travel and Terrain
Aside from insurance, another element to consider is the terrain you'll be traveling on. Whilst this might sound like a strange question, certain mobility scooters cater for certain conditions so you don't want to be riding an indoor model through the mud.
If you plan to travel by road, make sure you're buying a road scooter. The problem with these models is that they're not portable but they can travel longer distances than most. Therefore, if you'd like to buy a model that replaces your reliance on a car, the outdoor roadster might be for you. Obviously, these cannot be taken on highways so you'll still need another mode of transport if you're planning an out of town trip.
However, if your needs will mainly take in pavements and shopping centers then a portable travel scooter would be more suitable. These models fold up or come apart and are ideal for beginners. They're lightweight, inexpensive and compact – with adjustable seats and handlebars. The one issue is that they need regular charging but you can invest in a solar powered scooter charger on eBay. This will not only save you money in the long run but will aid your environmental credentials. Win win!
By Emily Buchanan, a writer and editor for Chartwell Mobility Insurance. For the latest, follow Emily  on Twitter or check out her blog.