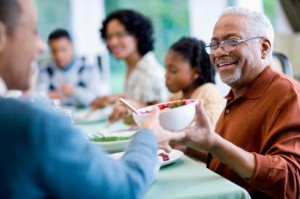 Your mom and dad are showing signs that they are not acting as sharply as they once were, and you are slowly noticing the change. Dishes are starting to pile up, hygiene is beginning to decline and your parent or elder is starting to forget normal routines, monthly bill payments or their usual doctor appointments. Because you do not live with them, you are concerned the little signs are indications of larger issues. As we age our state of mind and physical condition changes and making adjustments guarantees a safer, more comfortable and happier living condition.
Starting the Conversation
Regardless of the state your senior is in, discussing caregiving options early on and jointly is vital. Your conversation approach should come from a calm, understanding place where you highlight the advantages and specific reasons to why you think additional help is necessary. Outlining and examining what they want compared to the needs you anticipate should bring all pieces to a level playing field. Shift to a more emotional method if your mom or dad becomes hostile. Really explain your worries and if you already act as the family caregiver, tell him or her how the stress is starting to affect your own life. After coming to some form of agreement, it is time to decide on the best caregiving service.
Discussing Options 
The aging population is growing rapidly, and the senior care industry is creating numerous solutions for families in need. Assisted living, nursing homes, in-home care, adult day care and respite care are all options to consider. It can sometimes be difficult to make the smartest choice, but that is why the whole family's opinion needs to be considered. AARP asked baby boomers about their most desired location as they aged, and 80% of participants stated they wanted to stay in their own home instead of an assisted care facility. Staying at home is usually the most appealing due to the desired need for independence, and your family may prefer this solution. In-home care is the option that most greatly affects the entire family, and having a plan will make the transition go smoothly.
How In-Home Care Affects You
In-home care can come in three forms. The first circumstance is where the senior moves into your home. The second is where you check in on your mom and dad at their home. Finally, the third option includes the first or second option with additional respite care from a third party provider.
Accommodating an additional person in your home affects your family. Rooms can be reassigned or your home may need remodeling for handicap accessibility, an extra room or a new user-friendly bathroom. Safety elements also need to be reviewed in your home's current state. Emergency response systems, fall sensors and 24-hour monitoring structures are some of the common safety precautions installed in the home.
Financial changes also need to be considered in all three types of in-home care. Home remodels, food, respite care, transportation and many other expenses could be subtracted from your household's income. However, time is often the most overlooked element to in-home care services. Juggling your own personal life and household against added doctor appointments, mealtimes and errands can be difficult. Two schedules can be stressful on a family caregiver, so making sure the entire family is on board will also reduce the stress by finding the gaps between schedules.
Why Open Communication?
Taking on the responsibility and role of family caregiver is life changing. Resentment, hostility and stress-induced arguments can arise. Keeping the lines of communication open can reduce the negative tension between family members and help manage your new family dynamic. Working efficiently as a family allows things to run smoother and make for a happier home.
For any additional questions, please contact us in the comments below.
About the Author:
Kym Clark, RN, BSN, CLNC, CSA is the Director of Home Care Services and Quality Administration for Comfort Keepers®, a franchise network in the in-home care market for seniors and other adults needing care.