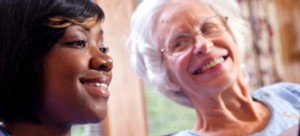 Age UK estimates that as many as 1.7m older people across the UK cannot afford to properly heat their homes and up to a third of those living alone are confined to heating just one room to save money on bills.
This winter the charity group is actively encouraging new volunteers to get involved in their local community and help neighbours and relatives stay warm and stay well. With a few ideas and flexible time commitment, everyone can make a lasting difference to an older person's life:
1. Set up a local volunteers network
Local charities and church groups can offer regular volunteering services aimed at helping older people and there are many great voluntary services across the UK such as: the Royal Voluntary Service; Volunteering England; and Friends of the Elderly.
If you want to start your own network of volunteers, or know already who you want to help, it is often best to start by hand writing letters to a small selection of people you want to help. Old or young, people can be suspicious of unsolicited mail so be very clear in your communication, introduce yourself and outline exactly how you want to help them and what you want to achieve. Explain very clearly that this is a voluntary exercise to help local people and that there is no cost involved.
Get friends and family involved and explain some of the things you would like to help out with. Obviously do not offer something you cannot provide and also outline very clearly the time involved.
2. Join a handyperson scheme
Handyperson schemes help in a very tangible way to an older person's well-being by helping people with small DIY projects and everyday tasks. It can also just mean spending time with people who may not get that many regular visitors. It could be something as simple as tidying the garden, painting a room, helping with domestic cleaning etc.
3.  Join a befriending scheme
Particularly important for older people transitioning from hospital, befriending schemes provide companionship for set times each week or month. Time commitments can be low and activities can be as simple as meeting up for a coffee or going for a walk. Most local authorities offer some sort of buddy scheme but many require older people to enrol themselves. Volunteers can be of any age and have an extremely positive impact on the people they help. Independent Age has created a very useful guide to befrienders and helping people stay connected.
4.  Telephone befriending
If you can't spare the time to join a face-to-face befriending scheme, telephone befriending can be a great alternative. It offers a vital lifeline for many people who may not otherwise receive contact from anyone and in a recent report into loneliness, telephone befriending services were singled out as having great potential for combatting the growing problem.
Services such as Age UK's Call in Time service or Friends of the Elderly's Phoning Friends service have seen amazing results, both for older people living on their own. Be aware that they are not all open to the public and many are run through corporate schemes.
5.    Help with keeping their house warm
There are many Government schemes set up to help older people insulate their homes effectively but many are not aware of their entitlement. The ideal temperature for a bedroom is 18°C and 21°C for the living room. You can help an older person by checking their thermostats are set correctly and install a simple thermometer to monitor the temperature. Keeping a home warm cost effectively is also about correct insulation.
You can help by making sure windows, doors are cat flaps are well-fitted. Using a letter box draught for instance can have a huge benefit on retaining heat.
You can also help ensure the boiler and central heating system is serviced regularly or ask their landlord to do this if it is their responsibility. If their boiler is old, you should help them install audible carbon monoxide detectors, make sure their smoke alarms are working etc.
6. Share a meal
Once a week why not cook a meal with an older person or take them a plate that they can easily re-heat. Projects such as the Casserole Club are great ways to make sure your neighbours are eating well. Age UK's free guide Healthy eating has a lot of advice on eating well, including a variety of foods that older people should be eating more of to ensure they get all of the nutrients they need. It also gives great advice on things such as stocking basic food items in the cupboard or freezer in case it's too cold to go shopping.
7. Activity and community engagement
Physical activity and community engagement is absolutely critical to an older person's well-being and ongoing health. There are strong links between an older person's level of daily physical activity and the risk of heart disease; Type-2 diabetes; depression and early onset dementia. Introducing an older friend to a new schedule of local activities can have an amazing impact on their outlook and positivity. The websites of local libraries, churches and schools will have a lot of information on activities available in the local area, as will local authority websites.
8.  Funding and awareness
There is always help out there for older people but it is often not fully understood or taken advantage of. You can help an older person by making sure they are fully informed of what help they are already receiving or knowing exactly what grants and other kinds of assistance they are entitled to. The NHS website; Age.uk; Citizens' Advice and www.gov.uk have a wealth of information on the benefits and available schemes to help older people.
They may also be considering their future options in regard to their care. You can help make sure they are supported as much as possible with all the relevant information they need to make an informed decision.
 Available benefits for older people can include:

Pension Credits
Winter Fuel Payments
Travel Concessions
Home Heat Helpline
Energy Saving Trust
Free prescriptions
Home Assisted Living schemes etc.
9. Create a chatroom with a difference
Lunch Clubs and Afternoon tea meet-up schemes are really simple but can make a big difference to people's lives. Contact the Elderly runs an amazing scheme where older people are treated to regular afternoon tea parties, giving them the chance to get out, meet up and make friends.
Volunteers can help in three ways: as Drivers, Hosts and Coordinators. For each afternoon session, a volunteer driver picks up the guests and takes them to the host's home, where they enjoy an afternoon of tea and cakes. The scheme alternates each time, keeping the cost and time commitments on everyone to a minimum.
10.    Organise a fundraising event
Raising money for any charity is both fun and rewarding and there are an increasing number of websites and charity resources online to help organise everything from a cake sale to a fun run.
Events such as Age UK and Innocent Drink's The Big Knit have been hugely popular and become key events on the national calendar and allow people around the UK to get involved in something much bigger, contributing in a small way to a big appeal.
Many charities provide extensive support to anyone looking to get set up, from organising the day to publicising it around the local community.
Whether it is a fun run, sponsored swim, themed dinner party, fancy dress, cake sale or sky dive, by helping organise a local charity event, you can massively help engage and encourage everyone to come together and help support older people in your community.
If you're worried about a relative or an elderly neighbour, contact your local council or ring the Age UK helpline on 0800 00 99 66 for more ways to help this winter.
About the Author
Sebastian Bos works on behalf of Caring Homes , a UK-based provider of award-winning care services for older people. He is a regular blogger on the key issues that impact elderly people and the charity sector.